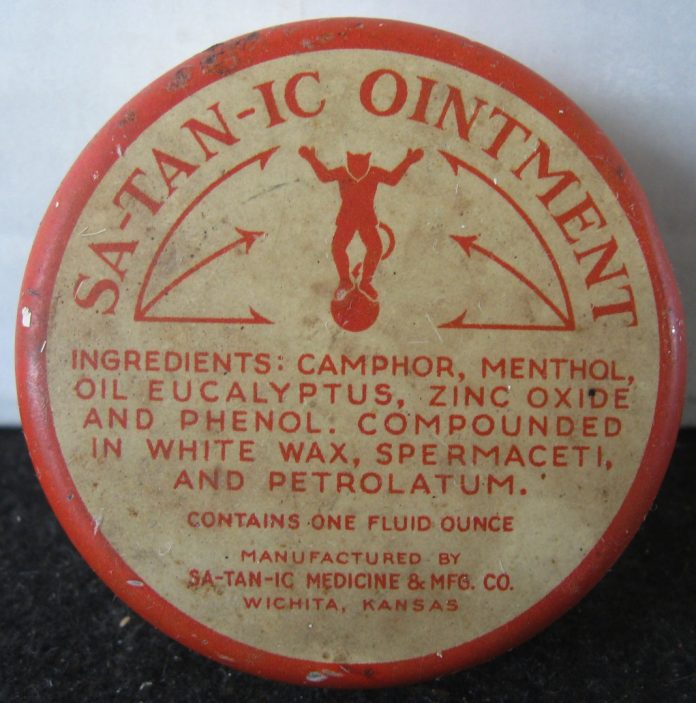 One must always be grateful for small mercies. When a giant jazz-hands Satan is trampling amok on your planet of residence, you can at least gain comfort from the fact he has kept his underpants on.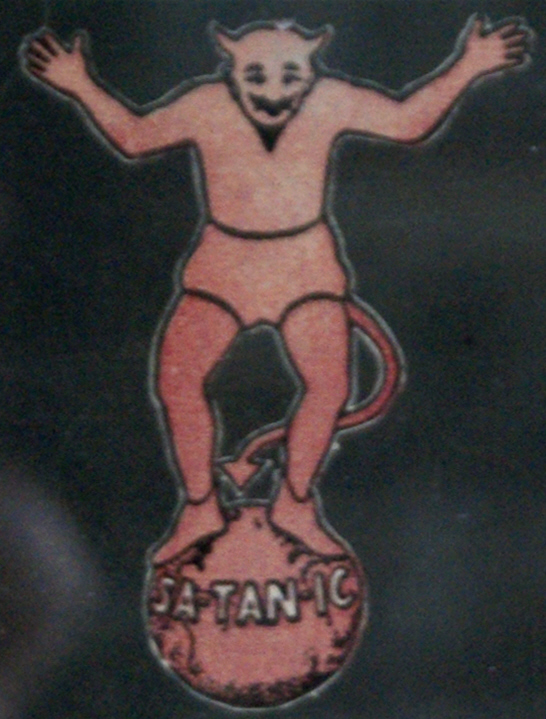 This depiction of Old Nick was registered as a trademark in 1915 by the Sa-Tan-Ic Medicine and Manufacturing Company of Wichita, Kansas. Their products were not especially out of the ordinary, but the name and logo make for some interesting advertising and packaging.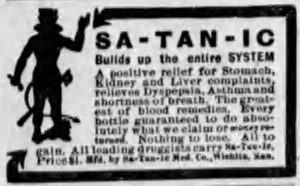 Advertisements for Sa-Tan-Ic appeared in the Kansas and Oklahoma papers during 1914, featuring a silhouetted figure in what appears to be more stylish attire (left, from www.newspapers.com). With the advent of the new trademark, however, the Prince of Darkness slipped into something more comfortable and would continue to treat customers to a view of his majestic winceyette for many years to come.
The Sa-Tan-Ic range included at least three medical products and some general industrial/household goods such as Sa-Tan-Ic Cleaner, a vegetable-oil-based cleanser designed for people working in grimy environments. Railway mechanics, blacksmiths and house painters were assured that it would remove paint and grease without chapping their hands. It could also be used for face massage and for shampooing the hair. Another product, Sa-Tan-Ic Gas Saver, was a petrol additive offering to cut motorists' fuel bills in half, to give cars more power and speed, and to increase mileage by up to 40%.

Leading the medical side of the range was the Sa-Tan-Ic Tonic Laxative, also known simply as 'Sa-Tan-Ic', which took as its starting point the notion that 'constipation is the cause of ninety percent of all diseases in man, women and children.' Keeping the bowels regular would sort out most other health problems, both physical and mental. Advertisements promised that Sa-Tan-Ic would bring mental sunshine, prevent a lazy liver from going on strike, and act like an 'energy gland' transplanted into the body to restore the vigour of youth.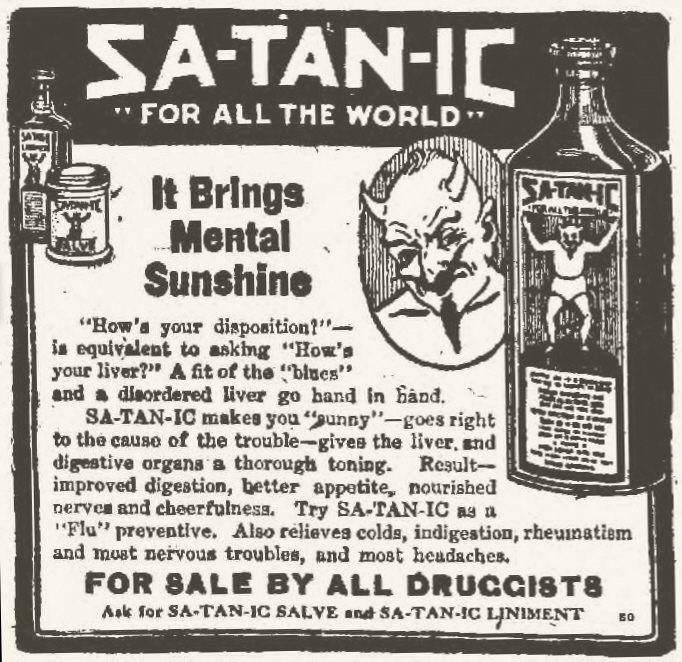 The Tonic Laxative was analysed as part of an FDA investigation into some shipments sent to Missouri in 1920 and 1921. The Bureau of Chemistry's analysts concluded that it contained magnesium sulphate, cascara bark extract, salicylic acid, methyl salicylate, peppermint oil, water and a trace of alcohol. The proportions aren't given in the report, but as methyl salicylate is toxic in high doses, this was presumably a small amount.
Hearings for misbranding under the Food and Drugs Act did not set out to ban products, comment on their overall effectiveness or decree that they were A Bad Thing. It was all about whether the claims on the packaging properly represented whatever was inside. So, while the herbal and salicylate ingredients would provide a laxative and pain-relieving effect, the claims that they could cure appendicitis and asthma – along with most other things – were a bit over the top. After paying $800 in costs and bonds, the company was free to continue selling the product, provided they were more circumspect in their marketing statements.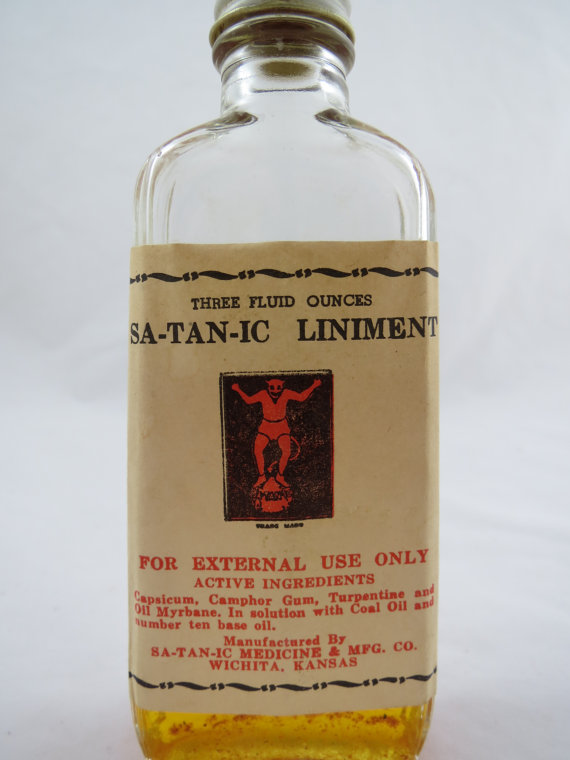 Another member of the Sa-Tan-Ic range  was a liniment advertised as good for man or beast. This bottle, sold on Etsy by VintageCocoByTheLake, is part full with a substance that she describes as still smelling strong and nasty! The listed ingredients show that it was a typical capsaicin muscle rub, a product that fits nicely with the fiery attributes of the brand. It was used for aches, bruises, sprains, neuralgia and toothache. The ointment pictured below (sold by BandSBargains) appears to have been a more refreshingly scented treatment for colds and skin conditions. The directions on the back of the tin state:
For relieving head cold symptoms, drop a small portion in boiling water, and inhale fumes.

For relief of cuts, burns, skin irritation and itching of piles. Apply with fingertips twice daily to affected parts.
If you could shrug off the theological discomfort of anointing your bottom with the unguent of Satan, you stood a reasonable chance of obtaining the desired relief.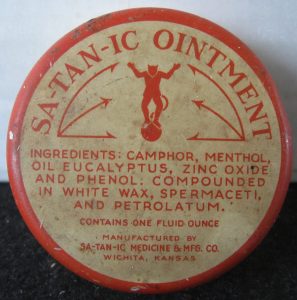 Sources:
The Beaver Herald, Oklahoma, 31 December 1914
The Wichita Daily Eagle Sun, 25 June 1915
The Hutchinson News, Kansas, 4 March 1920
The Fort Scott Daily Tribune and Fort Scott Daily Monitor, Kansas, 26 February 1920
The Coffeyville Daily Journal, Kansas, 11 November 1919
Notice of Judgment case 9659. Misbranding of Sa-Tan-ic. US vs 113 bottles of Sa-Tan-Ic et. al.
Images from Jonathan Brown (Mondo Tiki Man) on Flickr, VintageCocoByTheLake on Etsy, BandSBargains on Etsy, Newspaper Archive and Newspapers.com. Victorian hand from The Graphics Fairy.