Last October I blogged about the Magic Foot Drafts, a remedy for rheumatism that required the patient to stick pine-tar-coated oilcloth plasters to the soles of their feet. This was supposed to draw out uric acid through the pores, but as Samuel Hopkins Adams said in The Great American Fraud,
…they might as well be affixed to the barn door, so far as any uric acid extraction is concerned.
A few weeks ago, Linda Riordan, who lives in Ohio, found the blog post while searching for some info about a letter that her late grandma had kept in a shoebox since 1915.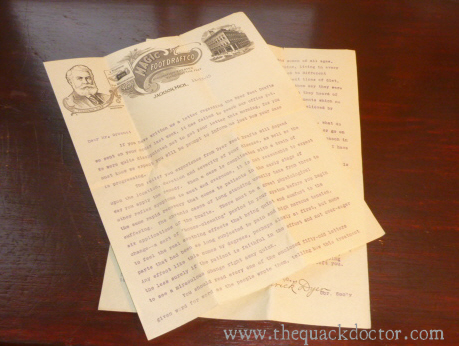 Linda's grandfather had sent off for a trial pair of Magic Foot Drafts but sensibly decided not to place a further order. By then, however, he was on their mailing list and they weren't about to let him go. Linda kindly sent me the letter – it's in beautiful condition and a very entertaining read.
It's signed by Frederick Dyer, Corresponding Secretary of the Magic Foot Draft Company, and he doesn't take the softly-softly approach to sales.
Dear Mr. Greene:

If you have written us a letter regarding the Dyer Foot Drafts we sent on your order last week, it has failed to reach our office yet. We were quite disappointed not to get your letter this morning, for you must know we expect you will be prompt to inform us just how your case is progressing.
The letter goes on to explain that the effect of the Drafts will vary according to the severity of the disease and how the plaster is applied – in other words, if it doesn't work, it's because your case is a complicated one or you put the plaster on wrong. Chronic cases might require up to 6 applications.
Any effect like this comes by degrees, perhaps slowly at first, but none the less surely if the patient is faithful in the effort and not over-eager to see a miraculous change right away quick.
Once again, an unsatisfactory result is the patient's fault for being too impatient or giving up too easily.

Dyer then goes on to ask Mr Greene to read 'every one of the enclosed fifty-odd letters' from satisfied patients (these testimonials have not survived). The hard sell continues:
Now then, to be fair with yourself and square with us, what do you intend to do? Try to get rid of your misery as others have, or go on suffering the rest of your natural life? There is positively no reason in settling down and saying: "Oh, I believe my case is incurable, for I have tried so many things, etc., etc."
There was a money-back guarantee if the Drafts didn't work, but the company probably relied on the patient wanting to believe there was some improvement, or feeling like an idiot and putting the episode down to experience without bothering to claim a refund.
The letter ends:
Unless you have already sent your order we shall expect a letter from you very soon, and there will be no failure to send the treatment just as you instruct, so you will have it and keep your recovery going steadily on day and night until every last twinge of pain has left you.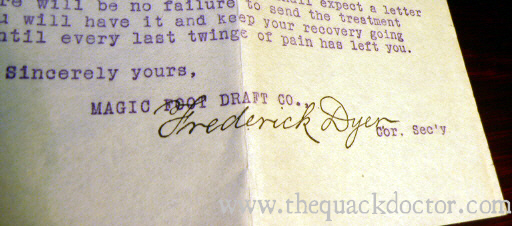 .
A huge thank you to Linda Riordan for sending me this letter.