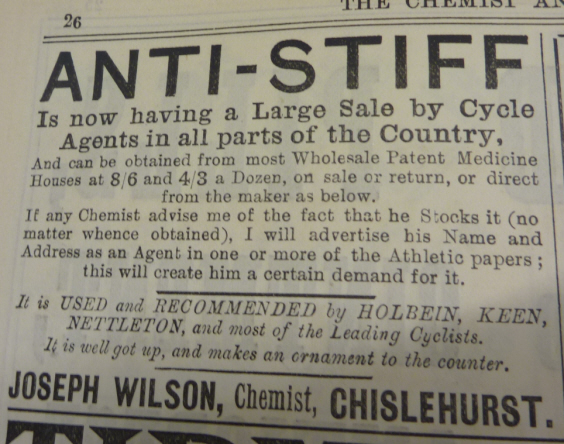 Anti-Stiff – a name contrary to the philosophy of today's email spammers – appears to have been a boon to the athletes of the 1890s. It was a muscle rub intended to ward off aches and fatigue during a variety of sporting endeavours, and its promoter claimed that 'some athletes are so fond of it that they rub it all over them.'
Unlike the messier liquid liniments that served a similar purpose, Anti-Stiff was a semi-solid substance packaged in a tin. U.S. publication the Western Druggist said that the product comprised petrolatum with some essential oils and colouring – so if you imagine a green, lavender-scented version of Vaseline, it was probably pretty much like that. Such a portable and convenient format made it particularly suitable for cyclists, who could carry it with them without the worry of dropping a glass bottle or spilling the product if they stopped to use it en route.
Adverts for Anti-Stiff regularly appeared in Cycling: An Illustrated Weekly, which began publication on 24 January 1891 and soon became a hit for its attractive layout, informative articles, humorous snippets and lively writing style. Right from the first issue, Anti-Stiff had a prominent advertising presence, asking readers:
Can you wonder that you lost that race?
Why, you did not use "Anti-Stiff!"
Testimonials abounded from the top cyclists of the day. C. A. Smith, who held the Brighton Coach Record (whereby cyclists would attempt to beat the times recorded by the old mail coaches between London and Brighton) said he was well rubbed down with Anti-Stiff before setting off on his ride. Cycling pioneer John Keen, who is mentioned in the ad above, also gave an endorsement, writing that he had used every other preparation known, but found none equal to Anti-Stiff.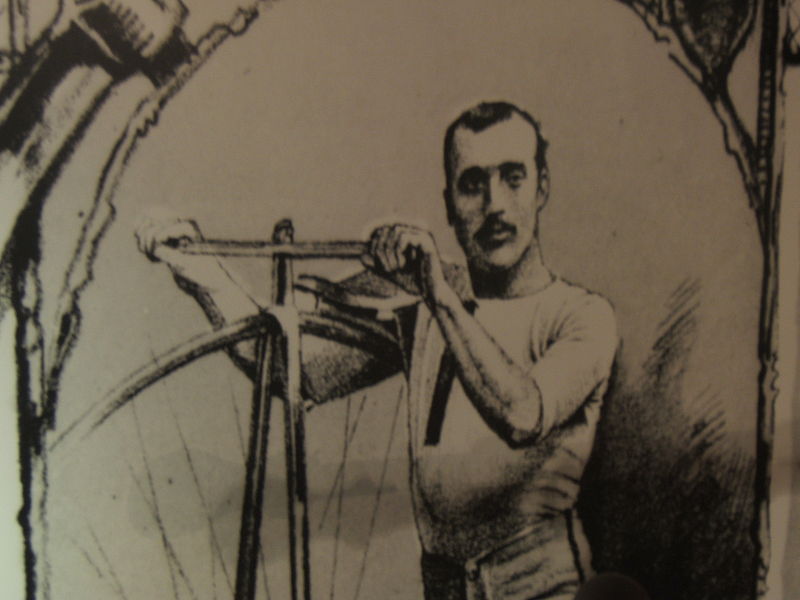 Although initially aimed at cyclists, Anti-Stiff was for anyone who hoped to exhibit sporting prowess, including footballers, boxers, runners and skaters. Although Victorian footballers did not enjoy the same lifestyle as their 21st-century counterparts, they were nevertheless invited to view Anti-Stiff as one of the finer things in life:
An article of this kind is a real luxury, and when once it is tried by a footballer, he will always keep a tin of Anti-Stiff handy, and carry it about with him as valued as his watch.
Notts County coach Harry Kirk reported that his players considered it 'grand stuff'.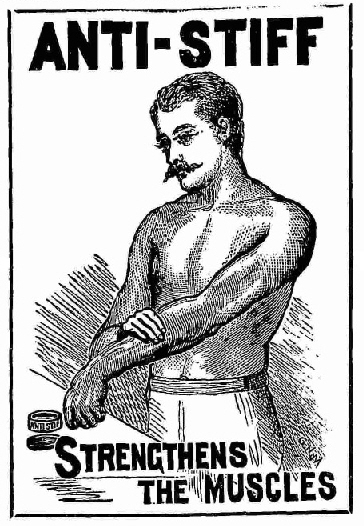 Field athlete H. Griffin also recommended Anti-Stiff:
Personally, I can speak in very high terms of it. During 1890 I used it, notably for a stiffened shoulder through "putting the shot," which it quickly put right "like a shot."
I see what you did there, Mr Griffin.
The advert at the top is aimed at chemists. As you can see, the proprietor, Joseph Wilson, uses the incentive of free publicity for any chemist who stocks the product. He also appealed to those in the cycle sales and repair trade by offering to print their headed paper free of charge provided he could include a discreet advert. With marketing techniques so focused on what the customer could get out of the deal, it is no surprise that Anti-Stiff soon became well-known enough to get mentions in entertainment magazines such as Punch and Fun.
In May 1891, however, the latter publication didn't give anyone much fun when it printed an Anti-Stiff joke so dire that it required a cringe-making Bruce Forsyth-style explanation of the punchline:
It should be sold in Turkey, for there there are millions of muscle men (Mussulmen.)