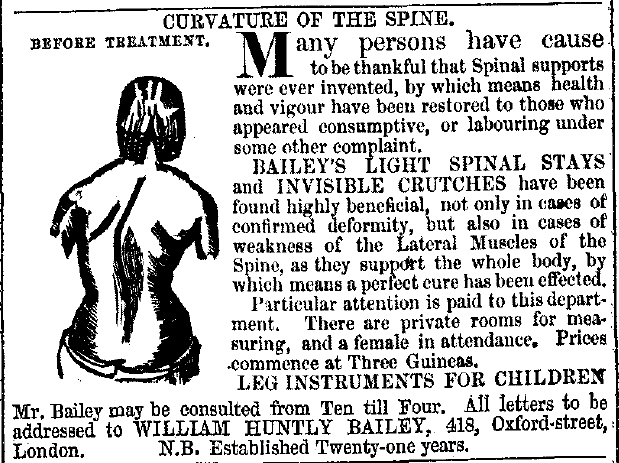 Source: The Era (London)  Sunday 23 October 1853
Bailey was a respectable supplier of  "every description of Anatomical, Dissecting, Amputating and Post-Mortem instruments" as well as trusses, support stockings, ear trumpets, railway conveniences (male and female), water beds and chest expanders. His adverts appeared in distinguished publications such as the Lancet as well as in the popular press.
Mr Bailey also made artificial arms, which could be useful for the Venus de Milo here if she should suddenly notice the fact that curvature of the spine is the least of her worries.
Invisible crutches were intended to the keep the shoulders up – the top part fitted under the arms and there was a steel attachment that fixed into the stays. The pictures below show the difference made to the posture by such contraptions i.e. not enough to be worth the effort.
Source: Health and beauty : or, woman and her clothing considered in relation to the physiological laws of the human body, Caplin 1864