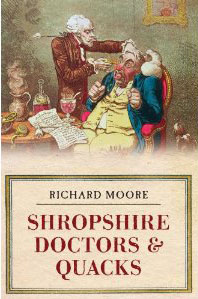 When doctors write about the history of medicine, there's a danger that the result will be 'look at me! I've just discovered the story of James Graham's Celestial Bed and shall now proceed to show how clever I am by relating some well-known details about it in an urbane and witty fashion!' Fortunately, Richard Moore (a retired GP who also has a history PhD) is not of this ilk, and presents a well-researched and engaging account of health provision in Shropshire in the 18
th
and 19
th
centuries. Starting with an overview of what life was like for the county's population at the beginning of the period, he goes on to trace the development of the medical profession and the voluntary hospital system as well as the sometimes surprising variety of other healthcare options. In spite of the obvious focus on Moore's home county, it would be a shame if the title confined the book to the local history section of Shrewsbury Waterstones. Not that there is anything wrong with local history, but the book is relevant to the development of health services across the country and I hope it won't be neglected by researchers investigating other counties. I was struck by the similarity between the early years of Shrewsbury Infirmary and those of Chester, which I have studied in the past. I knew Chester's governors had visited Shrewsbury for advice so it was fascinating to discover the close parallels between the organisations – right down to the problems of non-paying subscribers and unreliable porters. Moore writes concisely and covers a lot in the 224 pages (trade paperback size), with workhouses, asylums, spa towns and friendly societies all taking their place as part of the health environment. The information is well-organised, however, so it never feels as though the author is trying to cram in too much. Bearing in mind that the book results from Moore's PhD thesis, the style is also pleasantly free of academic show-offiness.  The sections on the rise of  'general practitioners' (individuals qualified as both surgeon and apothecary but without a medical degree) were particularly useful for me as this important role in provincial healthcare tends to be glossed over in London-centric medical histories. For similar reasons I enjoyed reading about the cottage hospitals of the second half of the 19
th
century. The 'quacks' aspect of the book is not as prominent as the title suggests, though one can't blame the publisher for including it as a sales point (and incidentally, Amberley have done a great job with the design and production). Many of the patent remedies mentioned are the 'usual suspects', such as Morison's Pills and Solomon's Balm of Gilead, which were advertised in newspapers all over the country. Moore, however, has also uncovered some interesting local Shropshire medicines - including Smith's Ploughman's Drops, which he suspects were an early commercial example of the use of digitalis. The book's focus refreshingly turns away from famous medical heroes and great discoveries, and puts the spotlight on ordinary practitioners and their patients, who got through life with inventiveness, fortitude and often humour. In a brief concluding chapter, Moore also makes some cogent points about modern health provision and our right - or otherwise - to free care under the pressurised NHS. If you're interested in the history of medicine and keen to look beyond the metropolis,
Shropshire Doctors & Quacks
is an engrossing and enjoyable read.
 .
.
Shropshire Doctors & Quacks
 was published by Amberley in October 2011. ISBN: 9781445604312
.