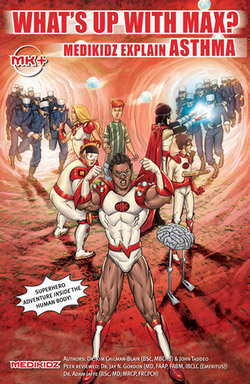 For a child diagnosed with a medical condition, life can suddenly become confusing and scary. Adults might not be equipped to answer their questions, or might even feel that it's best to hide the truth. Meanwhile, Google turns up horrific prognoses or theories that the condition is part of some government/alien-lizard conspiracy to poison the world. Dynamic new publisher
Medikidz
aims to tackle this lack of accurate, accessible medical information through a range of graphic novels for 10-14 year olds. They asked me if I would like to review one, so that's why this post is different from
The Quack Doctor
's usual historical fare. Medikidz' sales support the
Medikidz Foundation
, a charity that distributes the books and other medical info free of charge in developing countries, where diseases such as malaria, tuberculosis and HIV are prevalent. In the long term, the Foundation aims to set up clinics to improve disadvantaged children's access to medical care. Given that children in the 21st century are still living in poverty and contracting TB, it feels a little Liz Jones-ish to whine that when I was a kid, I was the wheezy figure of fun trailing behind everyone else on the sports field, frequently ending up in hospital with only the drone of a nebuliser for entertainment – but that's why I chose to review
What's Up with Max?: Medikidz Explain Asthma.
Like all Medikidz publications, the book features a gang of superheroes from Mediland, a planet in the form of a giant human body. After a water fight leaves Max gasping for breath, he is transported to this unusual place, where heroes Pump, Skinderella, Chi, Axon and Gastro give him a tour of the lungs. They are each experts on different aspects of the body, and are all very different characters, so children have a good chance of finding someone to identify with. I was pleased to see the central character portrayed as an average kid with a personality rather than the chubby, friendless saddo sometimes associated with asthma. Actually, come to think of it... maybe it's just me who was a chubby, friendless saddo. The comic represents the immune system as an army overreacting to any tiny threat. When some smoke appears, the army calls in emergency troops, and the influx of soldiers inflames the lungs. During Max's time in Mediland, he learns about peak flow tests, preventer and reliever medicines, and receives lots of reassurance that his condition can be controlled. Such information has a lot of potential to be tedious, worthy, patronising or all three, but the authors (Medikidz CEO Dr Kim Chilman-Blair and former Marvel graphic novelist John Taddeo) have done a great job of avoiding these pitfalls by keeping the pace moving and by injecting plenty of humour. As a sick kid hyper-aware of anything remotely condescending, I would have been dismissive of the whole idea of a book like this, but although the vibrant, action-packed illustrations are pitched well at the intended age group, it's the comedy that would have won me round. Most of the humour comes from the food-loving Gastro, whose fart jokes and bogey-munching escapades bring the book to about my level, but there are plenty of subtler chuckles too. I'm also impressed by the
Medikidz website
, which offers an index of medical conditions, treatments and procedures, all with accessible explanations that don't talk down to children. The site features games, multimedia resources and a fledgling social network, where members will be able to join forums, start blogs and find others who share their experiences. If you're a health professional working with children, a parent wondering how to answer questions, or a young person seeking trustworthy information, it's worth taking a look at Medikidz. These books help take the mystery and fear out of illness, with a few laughs along the way.
.
What's Up With Max? Medikidz Explain Asthma, is available from Medikidz' website at £6.99