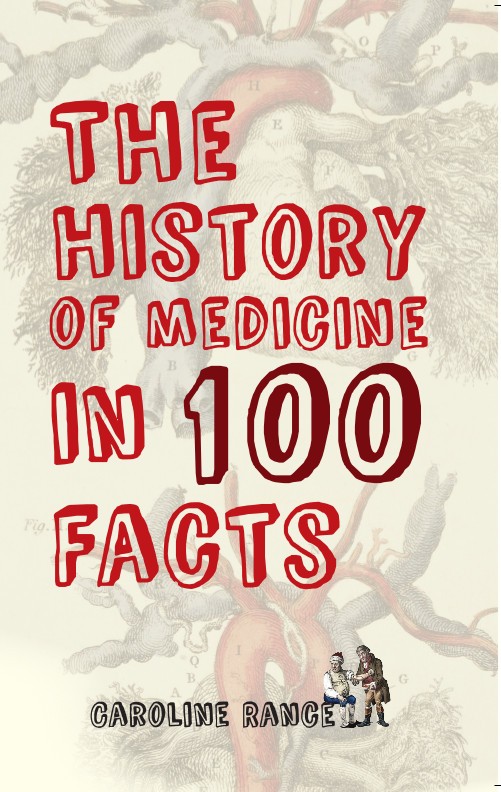 The History of Medicine in 100 Facts
Paperback
Amberley Publishing 15 December 2015
ISBN: 9781445650036
BUY NOW from The Book Depository for free shipping worldwide
The history of medicine is a vast subject, encompassing the whole of humanity in every region of the globe. For millennia, our ancestors have sought to combat disease, relieve pain and postpone the Grim Reaper's inevitable victory, doing so with a fortitude and humour that makes their experiences resonate with us today. In this book packed full of facts from medicine's long and often shocking past, Caroline Rance gives concise introductions to some of the more well-known (and not-so-well-known) episodes, dispelling a few myths and celebrating a few neglected figures along the way.
—————————————————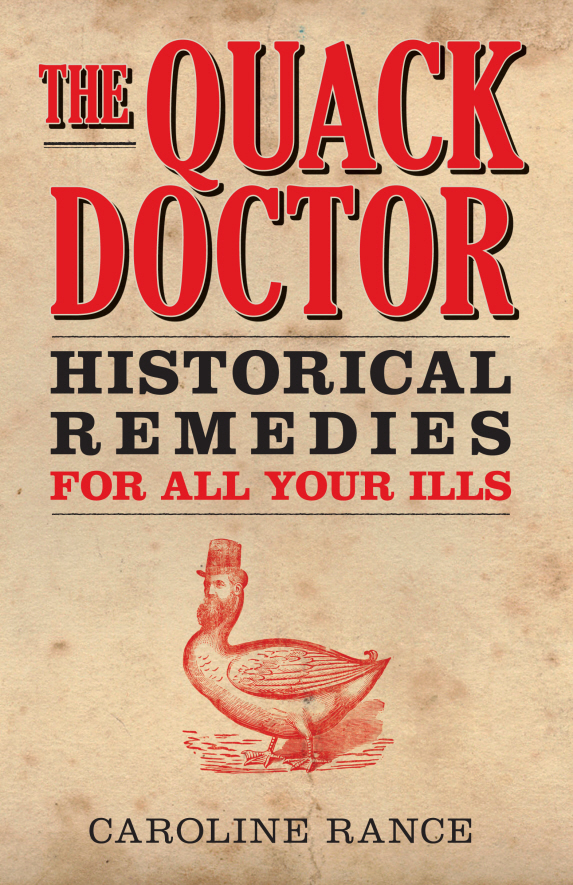 The Quack Doctor: Historical Remedies for All Your Ills
Hardback and ebook
The History Press Ltd 1 Oct 2013
ISBN-10: 0752487736
ISBN-13: 978-0752487731
BUY NOW
 from The Book Depository for free shipping worldwide.
…………………………………………………………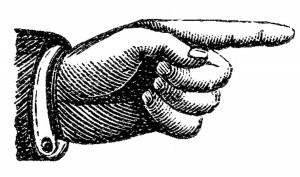 UK READERS – BUY A SIGNED COPY DIRECT FROM THE AUTHOR FOR £10 inc P&P.

From the harangues of charlatans to the sophisticated advertising of the Victorian era, quackery sports a colourful history. Featuring entertaining advertisements from nineteenth and early twentieth century Britain, this book investigates the inventive ways in which quack remedies were promoted and suggests that the people who bought them should not be written off as gullible after all. There's the Methodist minister and his museum of intestinal worms, the obesity cure that turned fat into sweat, and the device that brought the fresh air of Italy into British homes. The story of quack advertising is bawdy, gruesome, funny and sometimes moving and in this book it takes to the stage to promote itself as a fascinating part of the history of medicine.
—————————————————————————-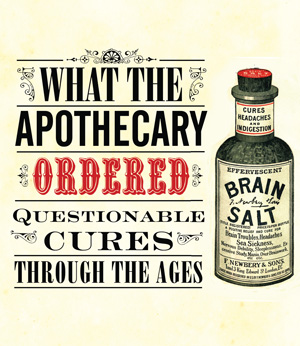 Choose this one as a fun stocking-filler…
What the Apothecary Ordered: Questionable Cures Through the Ages
Hardback
Old House Books (Shire Publications) 10 August 2014
ISBN: 9781908402868
Troubled by toothache? Dogged by dipsomania? Perhaps you have been poisoned or accidentally got a bottle stuck up your bottom? This compendium of tried and tested (and terrifying) historical remedies is your go-to guide for how not to seek medical relief.