If your Easter chicks aren't looking too chirpy, why not perk them up with a dose of this 20th-century Kentucky remedy?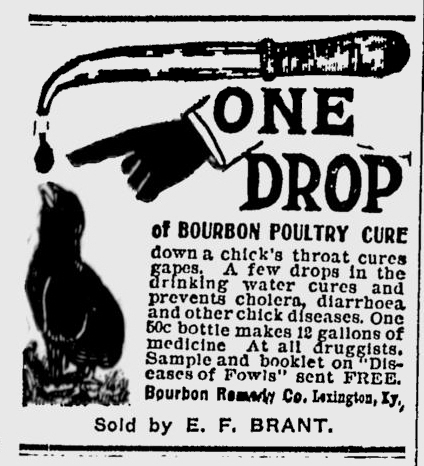 As a 1911 advert put it:
Sick fowls don't pay,
Droopy hens won't lay
and the Poultry Cure was a bargain at only 50 cents for a quantity that could be diluted to 12 gallons. The product claimed to be effective against a variety of conditions, but prominent in the advertising is 'the gapes', a disease affecting both domestic poultry and wild birds. When suffering from the gapes, the victim holds its mouth open and gasps for air as if it has something stuck in its throat.
Regular readers of The Quack Doctor might not be surprised to learn that the 'something' is parasitic worms. Without going into too much detail, gapeworms are blood-red, lodge in the bird's trachea, and appear to be Y-shaped because they exist in a permanent state of copulation. No wonder the chickens look surprised.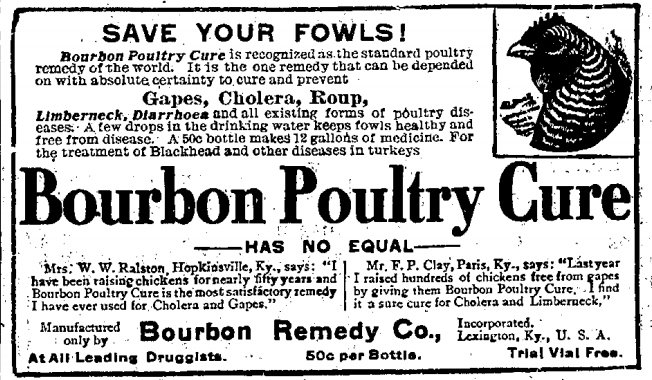 Testimonials for the Poultry Cure emphasised that it was the secret of success for experienced farmers – i.e. those who would not be fooled by any dubious flash-in-the-pan products. Mrs D A Brooks in 1908, for example, wrote:
I have been using your Bourbon Poultry Cure and I think it fine. If you induce our druggist here to keep it in stock I will recommend it. I am an old time chicken raiser and so many people come to me for pointers on poultry.
Whether the Poultry Cure was good or bad for neighbourly relationships is difficult to tell from Illinois farmer Ellora Sonnemaker's testimonial:
I have eighty head of fine Bourbon Turkeys. My neighbours lost all of theirs. They all raise Bronze Turkeys and say that mine are better bred is all the difference. I feed Bourbon Poultry Cure twice a week and tell them if they will use it they will have as good luck with their turkeys as I have with mine.
Meanwhile, the product enabled Mrs Cox of Lawrenceberg, KY, to win first prize in the best gobbler at Kentucky State Fair.
The Bourbon Remedy Company also sold a medicine for hog cholera (swine fever) but if the pigs and chickens had swapped notes, they might have discovered that there was no difference between the mixtures. According to analyses made when the FDA seized a consignment in 1919, both solutions contained aloes, free sulphuric acid, sulphates of iron, copper and magnesium, colouring and flavouring. Neither would be effective against the wide range of diseases they were supposed to cure.