It's time for a round-up of the latest blog posts on early modern history, and I'm pleased to be hosting the 60th edition of Carnivalesque. If you're interested in hosting a future history carnival, please visit the site and get in touch with Sharon or Julie.
———————-
Let's dive in and begin with witchcraft, political machinations and the 'Scottish play'. Lee Durbin at Marginalia looks at the tempestuous life of Francis Stewart, 5th Earl of Bothwell, who allegedly asked witches to predict when his cousin, James VI of Scotland, would die.
———————-
If you're having trouble with the occult, you might need to try an exorcism, but make sure everyone knows what they're doing. Roy Booth at Early Modern Whale reports on fake exorcisms in 16th-century Lancashire, where a priest's attempts to fool an audience were thwarted by his clumsy accomplice.
———————-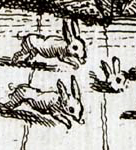 A more practical side to superstition appears in Emily Brand's discussion of early modern midwifery, which shows how the folklore and rituals surrounding childbirth could give the mother and her relatives a sense of control. Mary Toft, the famous rabbit-woman of Godalming, features too.
———————-
At the scientific end of the midwifery spectrum were the great anatomist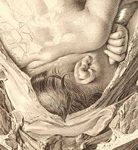 s William Hunter and William Smellie, but less well-known is illustrator Jan van Rymsdyk, who did the astonishing anatomical drawings that accompanied their work. Medical photographer Øystein Horgmo at The Sterile Eye tells us about this rather mysterious character.
———————-
Some earlier anatomical art appears in the form of 'fugitive sheets', a 16th-century method of layering drawings so that the viewer could lift the flaps and discover the wonders of the human body. The Wellcome Library Blog highlights an early printed reference to these materials.
———————-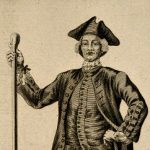 While we're on an anatomical theme, if I may be so bold, I'll plug my latest podcast here at The Quack Doctor. It gives a tour of Benjamin Rackstrow's Museum of Anatomy and Curiosities, a macabre collection that occupied 197 Fleet Street during the second half of the 18th Century.
———————-
But this edition of Carnivalesque is not all gruesome stuff! Dainty Ballerina talks about some popular sports of the 17th century – including whole-village football matches and 'running upon the ice in Scrick-Shooes.'
———————-
Then we have an artistic interlude, with Carlyn Beccia giving a detailed biography of Renaissance portrait-painter Sofonisba Anguissola over at Raucous Royals.
———————-
Lucy Inglis at Georgian London has done a series of podcasts looking at 

the symbolism in Hogarth's A Harlot's Progress. The link leads to the first one, but be sure to download the whole series of six. Rumour has it we can look forward to The Rake's Progress soon too.
———————-
Also commenting on the issues of his day was one of the earliest news illustrators, Frans Hogenberg, whose broadsides depicted the major political and military events of the 16th century. Rag Linen shows some examples of his striking work.
———————-

There's plenty more journalism to be had at Mercurius Politicus, where Nick Poyntz describes the newsbooks of the 1640s, their editors – including 'Beelzebubbs Ban-dogge' Henry Walker – and contemporary definitions of news.
———————-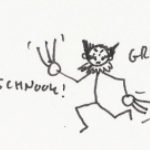 The Gentleman Administrator reviews Neil Gaiman's graphic novel Marvel 1602, a re-imagining of Marvel superheroes in a 17th-century setting. But there's someone missing, and who better than The Gentleman Admin himself to introduce Wolverine to the early modern milieu? (Don't miss part 2 either).
———————-
Sarah Redmond at LOL Manuscripts! features some advice for dutiful wives, and reminds us that the long 's' is the minuscule letter that just keeps on giving.
———————-
And finally… We might be blogging about history, but the spectres of some historical figures have lately joined the blogosphere too. Sir Joshua Reynolds says exactly what he thinks about Tracey Emin, and D C Read reveals how posterity has treated him with CHILLINGe NEGLECKT.
———————-
Thank you to those who sent in nominations. The next Carnivalesque is an ancient/medieval one, venue to be confirmed, so keep an eye on www.earlymodernweb.org.uk/carnivalesque for details.