The image of the 18th-century anatomist is a shady one, redolent of midnight forays into graveyards and dissection in front of a rabble of students. The cadavers in these scenes are anonymous and devoid of character; mere objects fuelling a relentless craving for knowledge.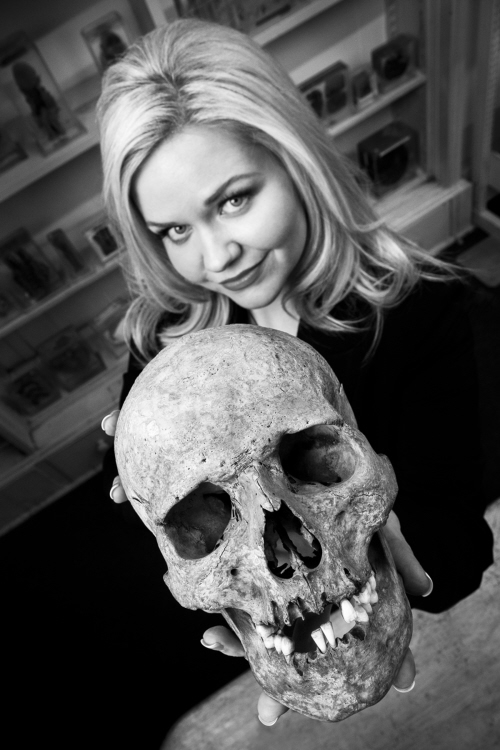 But everybody who ended up on the anatomist's table was once a person meeting the everyday worries and joys of life. Dr Lindsey Fitzharris, writer of The Chirurgeon's Apprentice blog, is exploring the reality behind the people whose bodies helped advance the science of surgery. She is crowdfunding her TV documentary, Medicine's Dark Secrets – and what a fascinating programme it promises to be! I asked Lindsey to tell me more about herself and her project.
The Quack Doctor: Medicine's Dark Secrets is an intriguing title with hundreds of possibilities! What will the programme focus on?
Lindsey Fitzharris: At its core, we want to explore the development of early modern surgery by telling the stories of the people who died and the surgeons who cut up their dead bodies in the 18th and 19th centuries. Our medical heritage can be dark and macabre, but it's important to acknowledge what went on in the past, and how it contributed to our understanding of human anatomy.
Why did you decide to fund it through IndieGoGo?
We interact with death in very different ways than people did in the past. Some of the objects I'll be looking at in Medicine's Dark Secrets may shock viewers, like the book made of human skin or the dissected hands of a man who committed suicide in the 19th century.
What I hope to provide through this documentary is historical context. Most importantly, I want viewers to remember that these disembodied specimens once belonged to real people with lives like you and me. By raising the money through IndieGoGo, I'll maintain control over the project so that it doesn't just become a voyeuristic journey into the past.
The response has been amazing, with thousands of dollars raised! Why do you think Medicine's Dark Secrets has captured people's imagination in such an exciting way?
I think it's very natural to be curious about death. We live in a 'death-starved' culture, and this only intensifies our curiosity about such things. Beyond that, people want to know more about their past, and medical history is not a subject which is normally explored in documentaries. This show will unite the visual with the contextual; and give viewers access to collections they would not otherwise be able to see.
I don't believe the past belongs only to historians and scholars. It should be open for all to experience. I think that message resonates with people, and that's why there has been so much support for this project.
I know you've already had experience of presenting in front of the cameras. What is the most fun thing about it? And the worst?
For me, the best part is getting an opportunity to meet interesting people in equally fascinating locations. For the trailer, I interviewed a bio-archaeologist in the crypt of St Bride's Church; spoke to a tattooist about preserved skin specimens in St Bart's Pathology Museum (below); and even interviewed the Coroner of Westminster at Ben Franklin's house.
The worst part is the repetition. People don't realise how long it takes to film a very short segment. On average, it takes 3-4 hours to get 5-10 minutes on film as the scene needs to be shot from various angles with different cameras and lenses. A lot of this involves repeating myself over and over again until we get it just right. It can be tedious!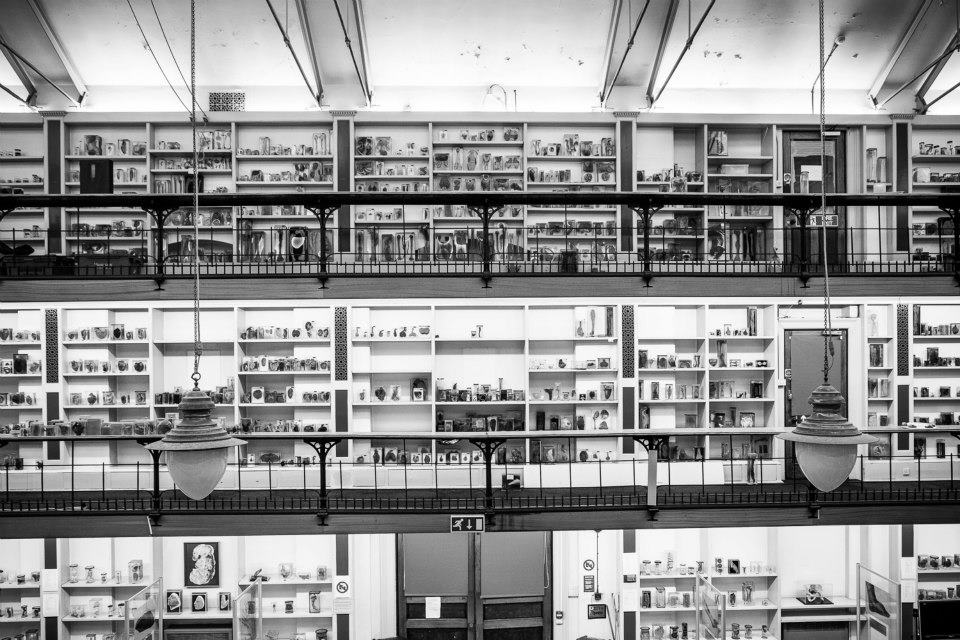 From your activity on Facebook, Twitter and your blog, you come across as a confident, supremely intelligent woman (not to mention beautiful, says The Quack Doctor, trying not to turn green). Do you ever have doubts and insecurities?
That's so kind of you. But believe-it-or-not, I'm a ball of insecurities! When I was growing up, I was an awkward child. I was 5'7'' by the age of 10 and struggled with my weight for most of my life. Seeing and hearing myself on camera is difficult as I still feel like 'that girl' who used to outsize the boys by a half a foot!
What's your favourite early modern surgical instrument?
I'd have to say the scarificator. Not only does it sound like something out of a horror film, but it is also one of the more common instruments used to bleed patients from the 18th century onwards. It typically had 14 blades hidden beneath its lower surface. When placed against the skin, and released by the trigger, these metal blades emerged and slashed rapidly into the patient's skin. There were few pleasantries about living during this period!
If you'd been born in the year 1700, how long do you think you would have survived?
Not long at all! I was a very sick child, and had several bouts with pneumonia growing up. I imagine I would have died young and been mourned briefly.
You've been described as a 'Deathexpert'. What would you like to happen to your body after your death?
I think what we imagine our funeral to be at the age of 30 is very different from what we imagine our funeral to be at the age of 75. If I dropped dead today, I'd want my body handed over to my friend, Jeff Jorgenson, who runs a innovative company in Seattle called Elemental Cremation and Burial. He tries to offset the polluting effects of body disposal and comes up with interesting ways to memorialize the dead. I've not given much thought to this – but I'd love for him to use my death as a promotional gimmick to get people talking more openly about these important issues.
If I live to 75, ask me this question again.
I hear you collect medical trade cards. Do you have a favourite item in your collection?
If I had to choose, I'd say the 19th-century business card for a hypnotist which reads: 'cures without medicines!'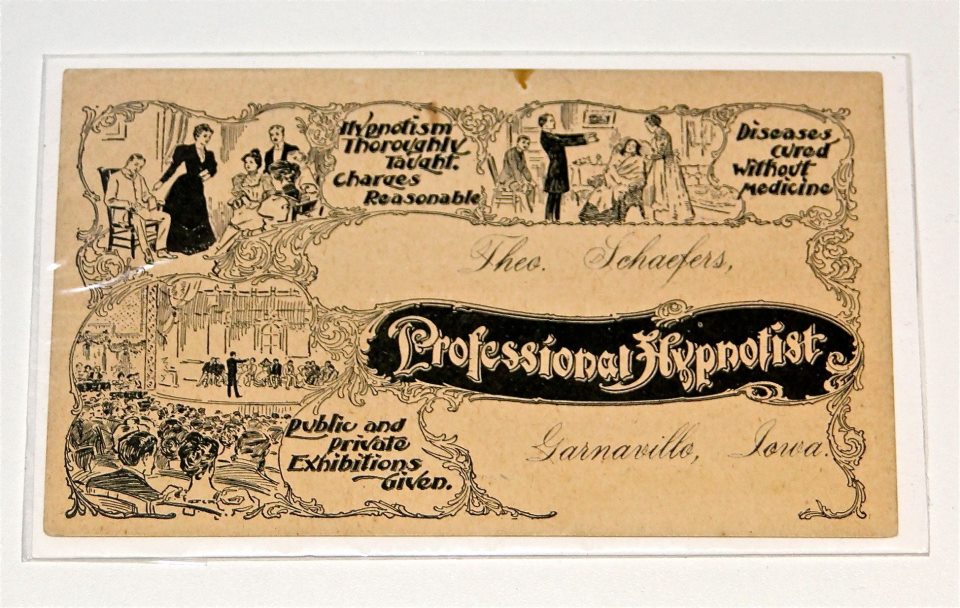 Academia's relationship with popular history can be rather tense. Given your strong academic background, what sort of attitudes have you encountered when others in the discipline hear about your blog and TV project?
I'm not going to lie. Not everyone agrees with what I'm doing. Some people think I am 'bastardizing' the discipline. Others think I'm being purposefully sensational. And while there is no doubt that I hit upon sensitive subjects in both my blog, as well as on the show, I hope that people come away with a real understanding of the history behind these objects when they leave. I like to say: 'Come for the skin book, stay for the history!'
That said, I cannot tell you how much support I've received from friends and family over the years. People like Jillian Drujon, Alex Anstey, Brandy Schillace and Shannon Marie Harmon have kept me going throughout this project, as has my father, Michael Fitzharris, who encouraged me to keep writing even when I felt no one was listening.
Which two individuals – practitioners or patients – from the history of medicine would you like to invite to dinner?
The 18th-century anatomist, John Hunter and the Irish Giant, Charles Byrne.
Byrne knew Hunter wanted his body when he died, and requested that his friends bury him at sea to prevent bodysnatchers from stealing his corpse and selling it to the eager anatomist. Unfortunately for Byrne, his friends were easily bribed. Hunter bought Byrne's body for an extraordinary £500 in 1783; and poor Byrne's skeleton now resides in the Hunterian Museum at the Royal College of Surgeons in London.
I imagine dinner would be tense but fascinating!
How can people get involved with Medicine's Dark Secrets?
People can donate to the campaign through IndieGoGo. We are offering some fun premiums, including a chance to have tea and syphilis cupcakes with me and the curator of St Bart's Pathology Museum! As ever, I appreciate everyone's support – no matter how large or small.
Thank you, Lindsey, for taking the time to answer my questions, and I'm really looking forward to seeing Medicine's Dark Secrets on screen!