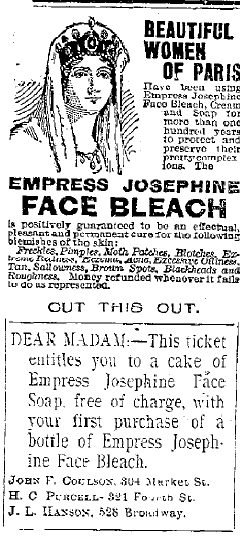 In a testimonial included in another Empress Josephine Toilet Co. advert, "Mrs Jos. C. Morton" wrote:
Some years ago I ruined my skin and complexion by the use of worthless face powders. Pimples would raise up in large lumps all over my face. They oft times resembled more closely a boil than a pimple. Modesty and sensitiveness of my condition banished me entirely from my friends, and I also felt that my husband was really ashamed of me…
Fortunately for marital harmony, Mrs Morton grasped the "golden cord of hope" that was Empress Josephine Face Cream, and was entirely cured, making her shallow wastrel of a husband "more proud of [her] than ever." (Newark Daily Advocate, Ohio, 5/7/1893)
.
BEAUTIFUL
WOMEN
OF PARIS
Have been using Empress Josephine Face Bleach, Cream and Soap for more than one hundred years to protect and preserve their pretty complexions. The
EMPRESS JOSEPHINE
FACE BLEACH
is positively guaranteed to be an effectual, pleasant and permanent cure for the following blemishes of the skin:
Freckles, Pimples, Moth Patches, Blotches, Extreme Redness, Eczema, Acne, Excessive Oiliness, Tan, Sallowness, Brown Spots, Blackheads and Roughness. Money refunded whenever it fails to do as represented.
CUT THIS OUT
———————–
DEAR MADAM. —This ticket
entitles you to a cake of
Empress Josephine Face
Soap free of charge, with
your first purchase of a
bottle of Empress Joseph-
ine Face Bleach.
JOHN F. COULSON, 804 Market St.
H.C. PURCELL, 821 Fourth St.
J. L. HANSON, 528 Broadway.
Source: The Logansport Journal, Indiana, 14 June 1893
The Empress Josephine range was one of many cosmetic brands designed to give women that fashionable Victorian pallor. Others included Madame Ruppert's Face Bleach, Mrs Graham's Face Bleach, Malvina Cream and Lotion, the Royal Face Bleach and Hagan's Magnolia Balm. A variety of dangerous ingredients formed the basis for such skin products, the main ones being lead carbonate, zinc oxide and corrosive sublimate (mercuric chloride). These could be absorbed through the skin, causing a wide variety of unpleasant physical, psychological and neurological  side-effects – for example,  death.
Harriet Hubbard Ayer, proprietor of unguents called the "Recamier Balm" and "Recamier Moth and Freckle Lotion" gave a recipe for face bleach in her Complete and Authentic Treatise on the Laws of Health and Beauty (1899). She suggested a solution of bichloride of mercury with glycerine, but in the quantities given it was luckily 'not strong enough to blister the face in average cases.' Good news for the average among us. Ayer helpfully warned:
Do not forget that bichloride of mercury is a powerful poison and should be kept out of reach of children and ignorant persons.
Which was all very well, but what if the ignorant persons were really tall?