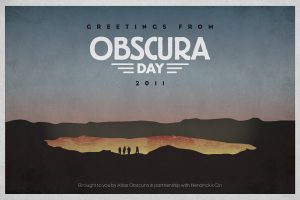 Atlas Obscura, the online compendium of the world's wonders, curiosities, and esoterica, is hosting its second annual International Obscura Day on April 9, 2011, in partnership with Hendrick's Gin. Last year's Obscura Day saw 4000 attendees at events in 80 cities, in 20 countries all over the world.
Obscura Day is an 'day of expeditions, back-room tours, and hidden treasures in your own home town,' designed to makes explorers out of everyone, and to inspire the kind of curiosity and wonder usually reserved for exotic travels and far flung locations. Events will happen all over the world, hosted by obscure collections, unusual museums, eclectic hidden wonders, and curious-minded individuals. At many events, Hendrick's Gin will be providing suitably unusual complimentary cocktails.
Those of us in the UK could take a candlelit tour of the mysterious Margate Shell Grotto, an exquisitely decorated series of underground passages discovered in 1835, or go behind the scenes at the Royal Observatory Greenwich, with tours led by Dr Rebekah Higgitt, Curator of the History of Science, and Rory McEvoy, Curator of Horology.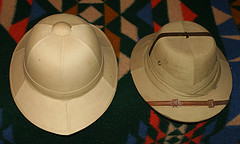 I'm rather keen to visit The Adventurists at the Royal Geographical Society Map Room for their Annual Film Festival. It promises to be an afternoon of quirky and gripping adventure films – but not the kind of slick documentaries that make it to your TV screen.
'Adventure films are boring,' say The Adventurists. 'Triumph through adversity is yesterday's news. We're after failure through stupidity.'
The self-filmed adventures range from 3 minutes to 20 minutes long and there is still time to submit your own for a chance to win the grand prize of £500.
The day also features adventuresome speakers, including National Geographic Adventurer of the Year, Ed Stafford, who recently became the first chap to walk the length of the Amazon River from source to sea.
Tickets are £15 for the whole afternoon – to book, visit The Adventurists' website, and to find out more about other Obscura Day events across the world see Atlas Obscura.