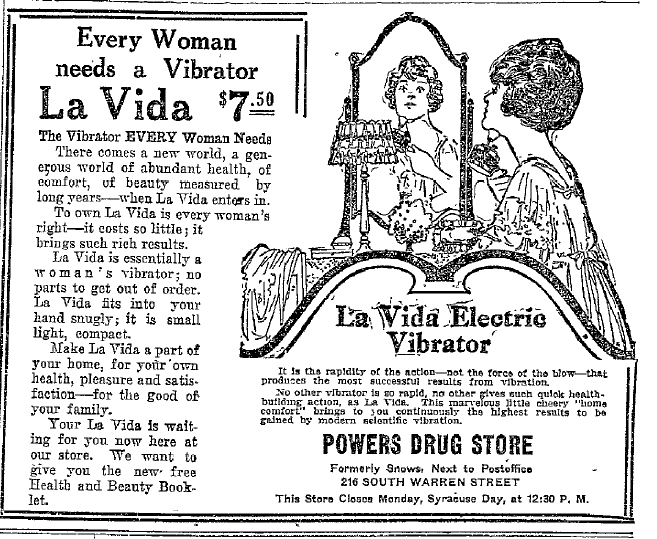 Source: The Syracuse Herald (NY) 7 Sept 1919
.
Every Woman needs a Vibrator
La Vida $7.50
The Vibrator EVERY Woman Needs
There comes a new world, a generous world of abundant health, of comfort, of beauty measured by long years—when La Vida enters in.
To own La Vida is every woman's right—it costs so little; it brings such rich results.
La Vida is essentially a woman's vibrator; no parts to get out of order. La Vida fits into your hand snugly; it is small light, compact.
Make La Vida a part of your home, for your own health, pleasure and satisfaction—for the good of your family.
Your La Vida is waiting for you now here at our store. We want to give you the new free Health and Beauty Booklet.
La Vida Electric Vibrator
It is the rapidity of the action—not the force of the blow—that produces the most successful results from vibration.
No other vibrator is so rapid, no other gives such quick health-building action, as La Vida. This marvelous little cheery "home comfort" brings to you continuously the highest results to be gained by modern scientific vibration.
POWERS DRUG STORE
Formerly Snows, Next to Postoffice
216 SOUTH WARREN STREET
This Store Closes Monday, Syracuse Day, at 12.30 P.M.
.
There's loads of equally snigger-worthy stuff in early 20th-century papers and magazines, often alongside ads for other useful home appliances such as sewing machines. Electric vibrators worked by plugging them into a lightbulb fitting but there were also mechanical hand-powered ones such as the 'Veedee'; this was promoted at big faith-healer-style lectures where sufferers of a variety of ailments could go up on stage and apparently be cured at once. For photos of such gadgets, have a look at the Antique Vibrator Museum.
While some brands, like the La Vida, were presented as beauty products, using facial massage to increase circulation and improve the complexion, others were marketed as health products for all the family. They claimed to help such diverse problems as rheumatism, obesity, deafness, hay fever, lung complaints, piles and chilblains, and were very much aimed at men as well as women.
Ads like the one below, however,  (from The Rotarian, March 1914) make it pretty clear that the manufacturers were aware of vibrators' more 'intimate' potential. In the 1920s they started cropping up in porn, and lost their reputation as a wholesome household appliance.