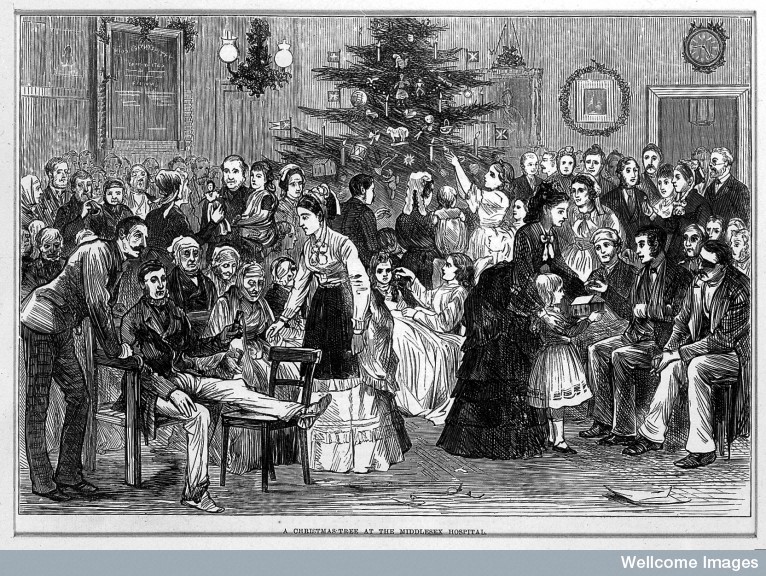 Above: Christmas at the Middlesex Hospital, Illustrated London News, 3 January 1874
.
On Christmas Day 1898, one of the house surgeons at the London Hospital dressed as Father Christmas and did the rounds of the wards, accompanied by a medical student togged up as Pierrot and pushing a trolley full of presents for the patients. The children received toys and sweets, and adults received practical gifts such as items of clothing. All 702 patients also got a Christmas card, and those well enough to have a good appetite sat down to a turkey and roast beef dinner followed by a huge plum pudding that arrived flaming with brandy. For patients (or inmates as they were known) whose home lives were characterised by drudgery and often downright squalour, there were worse places to spend Christmas than in one of London's large hospitals.
Some late-Victorian newspapers had a tradition of reporting on hospital festivities, and while newspaper stories inevitably have their own agenda – in this case wanting to provide a heart-warming tale for their readers (and probably sucking up to the great and the good on the hospital committees) – they do give an insight into the dedication of the hospital staff and the extent of the charitable giving that brought some Christmas cheer to sick and impoverished people.
Westminster Hospital patients were in for an early start when the staff started carol singing at 6am and then held a worship service at 6.30. The patients went on to receive a variety of gifts including warm garments, purses and workboxes, and in the afternoon the male patients were allowed to light up pipes – an indulgence normally against hospital rules. Allowing the men to smoke on Christmas afternoon was a popular hospital tradition – at St Mary's, Paddington, for example, a pipe and tobacco was the standard gift for the chaps.
The same year, the Middlesex Hospital had a huge Christmas tree, flowers sent by a local philanthropist, and toys for the younger patients courtesy of the Duchess of York. The Morning Post stated that: 'Under the supervision of Miss Thorold, the lady superintendent, the 300 patients enjoyed a thoroughly festive Christmas day' – under such supervision, I suspect they enjoyed it whether they liked it or not.
Decoration of the hospital wards usually fell to the nurses, sometimes with the help of medical students. Evergreen branches and greetings with letters cut out of cotton wool made the wards festive. Some hospitals did not allow evergreens in case they harboured germs, but most had at least one Christmas tree, and St George's had a gigantic tree in every ward, lit with electric lights. St George's was known for its classy decorations, and in 1897 The Morning Post explained this by saying 'St George's is an aristocrat among hospitals, and is noted for doing all things well.'
At St Bart's that year, 19st of beef and 700lb of plum pudding were just enough to give all the patients a hearty meal, while the custom at Guy's Hospital was for the medical and nursing staff to have their Christmas lunch with the patients.
On Christmas afternoon, most hospitals (except those specialising in infectious diseases) allowed patients to invite visitors for tea, and this was particularly important for those in the children's wards, who could spend the afternoon with their parents. Entertainment was often provided, ranging from impromptu songs by the more musical among the nurses and students, to fully fledged amateur dramatics involving the physicians and surgeons. At St Thomas's and St Mary's in 1899, the staff had pianos put into each ward for a good old sing-along.
Christmas in hospital is never going to be wonderful, but these Victorian nurses, ward sisters, students, physicians and surgeons did everything they could to make it a happy occasion for their patients. Let's be thankful for them and for their modern equivalents who are on duty right now, caring for people who are ill or injured.
Thank you to everyone who has read, commented on and retweeted The Quack Doctor over the past year. I wish you all a joyful Christmas and a new year filled with happiness, hope – and especially health.