When your Magic Chicken is suffering from cholera, there's no need to panic. This bottle for the Magic Chicken Cholera Cure is one of around 195 medicine bottles in the collection of Michael Till, a retired GP from Gloucestershire.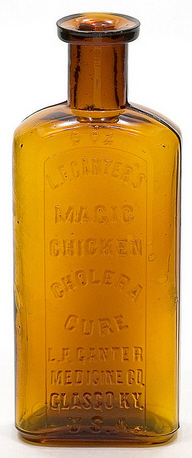 Michael became interested in historical remedies after looking into the story of his practice's founder, Dr Walter Hadwen, a prominent anti-vivisectionist who spent the early part of his career in pharmacy before qualifying as a doctor in 1893. Michael has kindly given me permission to share some of his photos with you.

Above: William Radam's Microbe Killer – the Germ, Bacteria or Fungus Destroyer – was analysed by the A.M.A. in 1910 and shown to be more than 99% water, with traces of sulphuric acid, sulphurous acid and ash. The embossed design shows a simplified version of Radam's logo – a man beating up Death, who takes the form of a skeleton. The line partly circling the characters' legs is Death's broken scythe.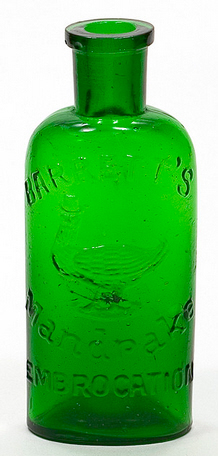 Barrett's Mandrake Embrocation – a late-Victorian topical preparation for rheumatism. The bottle shows the likeness of its proprietor, Joshua Barrett, attached to the body of a drake. Look out for a chapter about him in The Quack Doctor book, due out 1 October.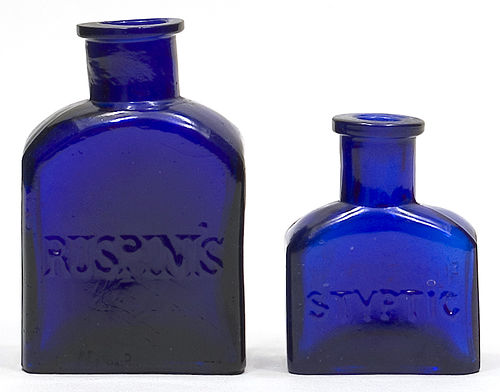 Ruspini's Styptic, one of the products offered by Italian surgeon-dentist 'Chevalier' Bartholomew Ruspini, who practised in London during the second half of the 18th century. The Styptic was intended to stanch bleeding. In a nosebleed, for example, '…a small piece of lint, dipped in the Styptic, is to be gently inserted into the nostril; and, if the bleeding does not immediately cease, a small quantity of the Solution is to be injected with a syringe.'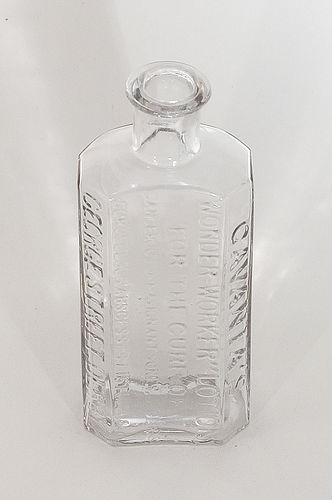 A mint example of Cavania's 'Wonder-Worker' for the cure of cancerous or malignant sores, ulcers, scrofulous abscesses, fistulas, &c. David Browne von Cavania advertised in Leeds from about 1860 and later in Derby. He worked in partnership with his daughter, who used the title Mademoiselle Cavania and promoted herself as the only qualified female physician in England, later continuing her practice alone as Madame Newmane. Both father and daughter claimed to have gained medical degrees in the US, but this is doubtful.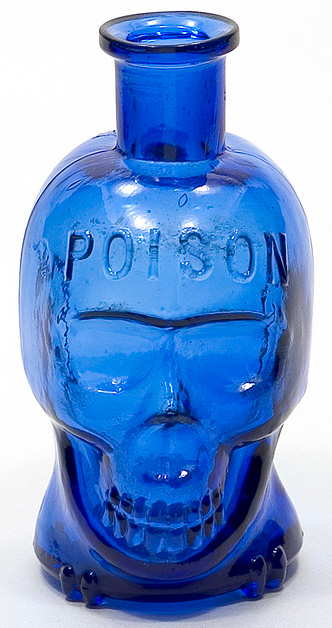 Poison!
For many more beautifully photographed antique medicine bottles, visit Michael's Flickr page. 
And for something completely different, also take a look at his website about the distant relatives who were music hall stars in the late 19th century – the superbly named 'Till Family Rock Band'