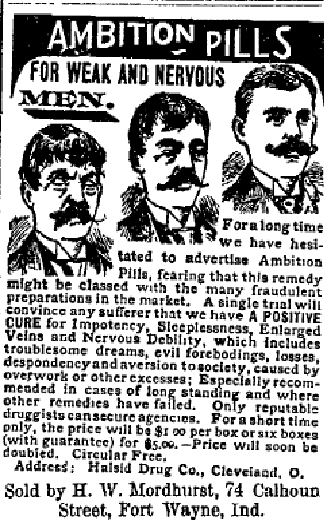 At first glance I thought this showed pictures of three men, but no – it's the same fellow, transformed from the seedy old roué on the left into a fine specimen of manly vigour,  ambitious to take on the world and all its laydees.
The perkiness of a chap's moustache was a good indicator of virility, if patent medicine ads are to be believed (which, quite obviously, they're not). Other remedies against "nervous debility" also showed the moustache gradually losing its droopiness, allowing one to infer the efficacy of the medicine in other areas.
.
AMBITION PILLS
FOR WEAK AND NERVOUS MEN
For a long time we have hesitated to advertise Ambition Pills, fearing that this remedy might be classed with the many fraudulent preparations in the market. A single trial will convince any sufferer that we have A POSITIVE CURE for Impotency, Sleeplessness, Enlarged Veins and Nervous Debility, which include troublesome dreams, evil forebodings, losses, despondency or aversion to society, caused by overwork or other excesses; Especially recommended in cases of long standing and where other remedies have failed. Only reputable druggists can secure agencies. For a short time only, the price will be $1.00 per box or six boxes (with guarantee) for $5.00.—Price will soon be doubled. Circular Free.
Address: Halsid Drug Co., Cleveland, O.
Sold by H. W. Mordhurst, 74 Calhoun Street, Fort Wayne, Ind.
.
Source: The Fort Wayne News (Indiana) 15 April 1896