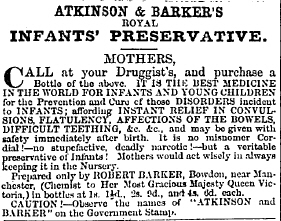 Source: The Patriot (London) 12 September 1853
It is no misnomer Cordial! —no stupefactive, deadly narcotic! —but a veritable preservative of Infants!
Regular readers of The Quack Doctor might be able to hazard a guess at the active ingredients of this product. Like other infant quieteners, it did contain a narcotic, and, like them, it was a killer.
One unusual thing about Atkinson and Barker's Royal Infants' Preservative, however, was a particularly dubious form of promotion.
A few hours after my son was born in 2007, the only person in the post-natal ward who noticed I was there was a sales rep who came to present me with Pampers vouchers and sign me up to mailing lists for catalogues full of baby-related crapola. In hindsight I am mildly outraged at the tackiness of this marketing ploy, but at the time I was happy to see a friendly face, and handed over my details. The only harm done was a bit of junk mail that's still turning up three years later. What I didn't know at the time was that a similar practice was in operation in the 1870s, with far more sinister results.
In 1876, Kilburn doctor William H Platt wrote to the medical journals to highlight an issue he'd discovered quite by accident. Local parents were finding flyers for the Royal Infants' Preservative enclosed with their children's vaccination papers. At this period, vaccination against smallpox was compulsory, and these official documents were sent out to all who had registered a birth. Platt surmised that someone from the company had done a dodgy deal with the Board of Guardians to come up with this plan.
The result, he believed, was:
…to induce the people receiving these papers, many of them poor and ignorant, to believe that these so-called infant preservatives are recommended by the same authority which enforces vaccination.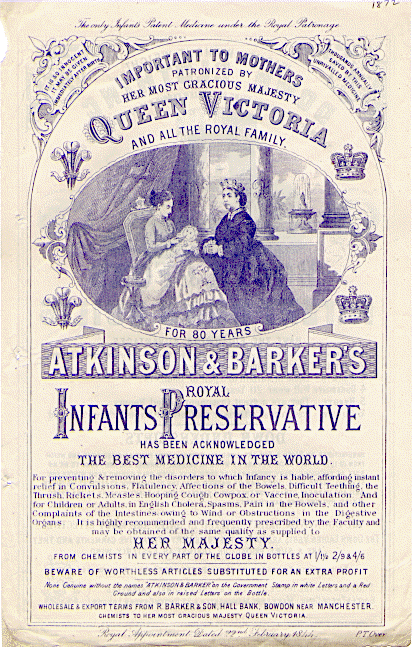 The handbills involved would have been something like the above, and as you can see, they also purport to have the ultimate celebrity endorsement. Atkinson and Barker were 'Chemists to Her Majesty in Manchester', but quite how often she popped into their Bowdon warehouse I don't know. The relationship mainly involved the company trumpeting the royal connection and boasting about the time they sent the Queen a gift of the Preservative in a classy bottle.
The mixture's composition was listed in the Druggist's General Receipt Book in 1878.
Carbonate of magnesia 6 drs.
White sugar 2 oz.
Oil of aniseed 20 drops
Spirit of sal volatile 2 drs.,
Laudanum 1 dr.,
Syrup of saffron 1 oz.,
Caraway water to make a pint.
('dr' refers to drachms)
The amount of laudanum was pretty small, but then so were the people who received it. In 1886, an inquest on the body of a six-week-old baby decided that a mere six drops of Royal Infants' Preservative had been enough to kill it, as it was already weakened by illness. Surgeon Mr H S Leigh told the jury that when he saw the baby the morning after the dose,
…its pupils were contracted to the size of a pin's head; it was covered with a cold, clammy sweat; it was breathing about six in the minute, and was apparently moribund.
The child 'lingered on till evening, when it died.'
The Preservative had been around since the 1790s. In the 1830s, artist O. Hodgson satirised parents' reliance on such products with the following cartoon.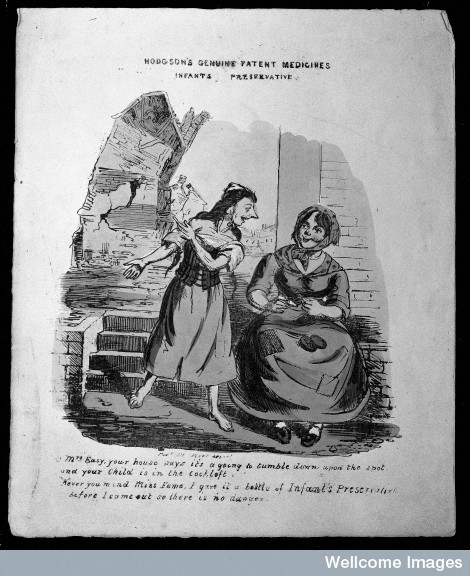 Image credit: Wellcome Images
Mrs Easy, on the right, is informed that her house is about to fall down with her child inside.
'Never you mind,' she says. 'I gave it a bottle of Infant's Preservative before I come out so there is no danger.'
.
.