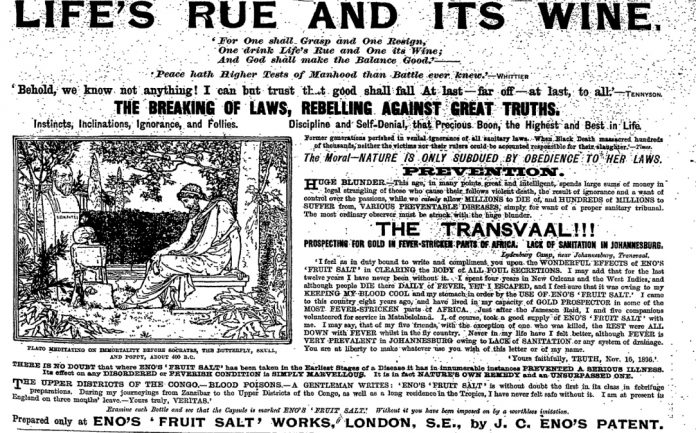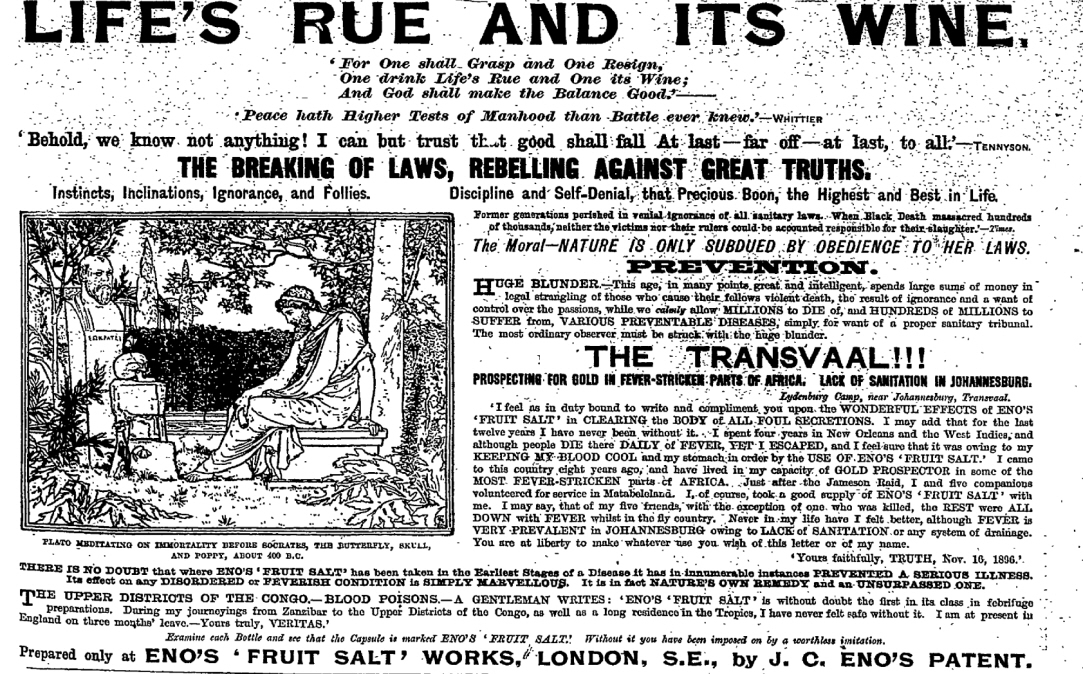 Invented in the 1850s by James Crossley Eno of Newcastle, the Fruit Salt sold like hotcakes to sailors looking for something to keep them healthy on long journeys. The product is still available today – now manufactured by GlaxoSmithKline, it sells in vast quantities worldwide and is a popular ingredient in Indian cookery. It contains sodium bicarbonate, citric acid and sodium carbonate, but in 1906 the Pharmaceutische Centralhalle für Deutschland analysed it as 50% sodium bicarbonate, 15% sodium bitartrate and 35% free tartaric acid.
The advert below is rather subdued by Eno's standards. More often than not the ads incorporated some moral and philosophical lesson and used poetry or literary quotations to enhance their message. Click on the thumbnail above for a 1897 ad, also from the Penny Illustrated Paper.
For more on the history of J C Eno and his invention, see the Royal Pharmaceutical Society.
HOW TO AVOID
THE
INJURIOUS EFFECTS
OF
STIMULANTS.
The present system of living—partaking of too rich food, as pastry, saccharine, and fatty substances, alcoholic drinks, and an insufficient amount of exercise frequently deranges the liver. I would advise all bilious people, unless they are careful to keep the liver acting freely, to exercise great care in the use of alcoholic drinks, avoid sugar, and always dilute largely with water. Experience shows that sugar, pink or chemically coloured sherbet, mild ales, port wine, dark sherries, sweet champagne, liqueurs, and brandies are all very apt to disagree, while light white wine, and gin or whiskey largely diluted with soda-water, will be found the least objectionable. ENO'S "FRUIT SALT" is peculiarly adapted for any constitutional weakness of the liver; it possesses the power of reparation when digestion has been disturbed or lost, and places the invalid on the right track to health. A world of woes is avoided by those who keep and use ENO'S "FRUIT SALT"; therefore no family should ever be without it.
CAUTION.—Examine each bottle and see the Capsule is marked ENO'S "FRUIT SALT." Without it you have been imposed on by a worthless and occasionally poisonous imitation.
SOLD BY ALL CHEMISTS
PREPARED ONLY BY
ENO'S "FRUIT SALT" WORKS.
LONDON S.E.,
BY J. C. ENO'S PATENT.
Source: The Penny Illustrated Paper and Illustrated Times ( London) Sat 22 Nov 1890