While some historical quacks and their remedies remain famous, I often find adverts for products that have faded into obscurity. Some were one-hit wonders that only appeared in the papers for a few weeks, while others were well known in their time but don't have much extant background information associated with them.
There are also ads I haven't blogged about because they are too similar to those I've already covered. They are, however, worth sharing with the world, so over the next couple of weeks I'll be featuring some of these gems rather than the usual more detailed posts.
First up is Professor Modevi's Beard Generator, promoted in The Illustrated Police News on 4 April 1885.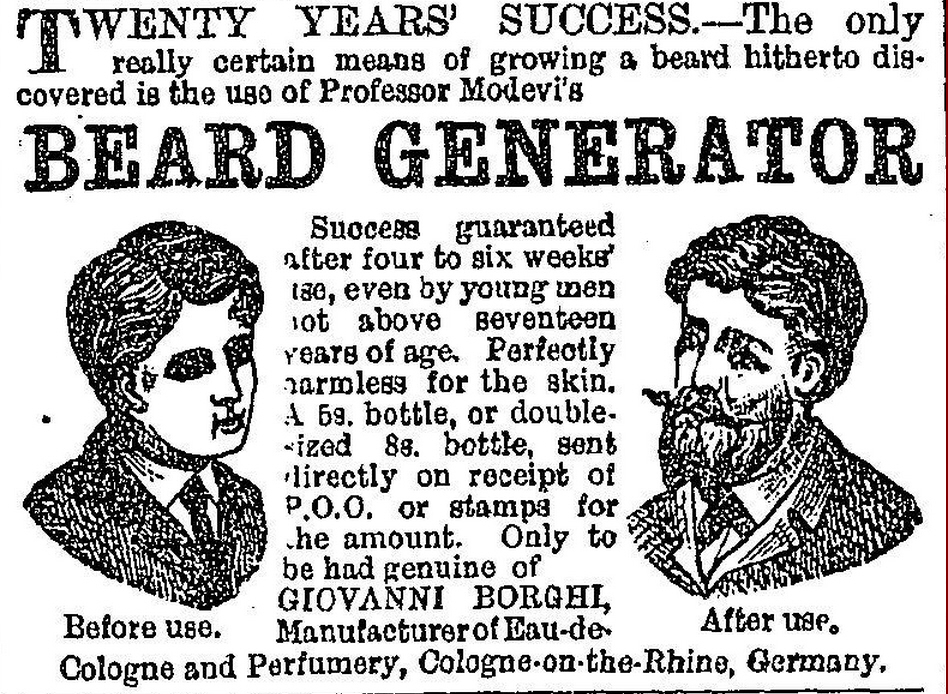 .
TWENTY YEARS' SUCCESS.—The only really certain means of growing a beard hitherto discovered is the use of Professor Modevi's

BEARD GENERATOR
Success guaranteed after four to six weeks' use, even by young men not above seventeen years of age. Perfectly harmless for the skin. A 5s. bottle, or double-sized 8s. bottle, sent directly on receipt of P.O.O. or stamps for the amount. Only to be had genuine of GIOVANNI BORGHI, Manufacturer of Eau-de-Cologne and Perfumery, Cologne-on-the-Rhine, Germany.