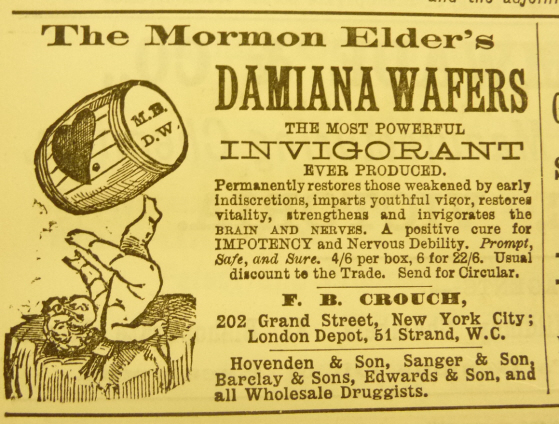 As a target of drug manufacturers, impotence has stood the test of time. In the late 19th century, mail order remedies and relatively anonymous purchases from a chemist were ways of avoiding the embarrassment of visiting a doctor – and judging by the amount of spam devoted to the subject today, there is still a lucrative market. Traditionally reputed as an aphrodisiac, damiana (the shrub 
Turnera diffusa
) attracted the attention of the medical profession and commercial vendors in the US in the 1870s, but it was not always promoted as a cure for sexual problems. Fleckenstein and Meyer of Portland, Oregon, advertised it as a remedy for kidney and bladder disease, while Michel Levy & Co of Los Angeles promised in 1884 that '
you will never have a sour stomach if you drink Damiana Bitters
.' New York druggist F. B. Crouch, however, was more explicit about the herb's potential to restore vitality and youthful vigour to those suffering 'nervous debility'. His brand capitalised on the perceived virility of Mormons, inviting the customer to wonder if this product was the secret to keeping up with all those wives. The British advertisement above appeared in 
The Chemist and Druggist
(16 Nov 1889), so it's not aimed at the end user but at pharmacists who might stock the wafers. Discretion, however, was required. In 1893, John James Blissett Hay of Wellington Street, Covent Garden, was summoned to Bow Street Police Court for exhibiting indecent advertising cards promoting damiana wafers in his shop window. The full product name is not mentioned, but the Mormon Elder brand trademark showed a naked woman - perhaps it was she who offended the sensibilities of a passing policeman. Because Hay took the advertisements down as soon as he was asked to, his fine was 'only' 20s. The picture below was also used on advertising materials, making it clear that the wafers would increase your chances of some action. Bookseller Rick Grunder has a great
colour version of this image
from a pamphlet so rare that he sold it for $1,750. A trade circular of 1888 described the product's effect as follows:
Actually creates new Nervous Fluid and Brain Matter by supplying the Blood with VEGETABLE PHOSPHATES, its Electric Life Element, the very core and center of the Brain itself—Restoring the fullest and most Vigorous conditions of Robust Health of Body and Mind, so that all the Duties of Life may be pursued with Confidence and Pleasure, and whilst pleasant to the taste never fails to Purify and Enrich the Blood, and thoroughly invigorate the Brain, Nerves, and Muscles. Its energising effects are shown from the first day of its administration by a remarkable Increase of Nerve and Intellectual Power, with a Feeling of Courage, Strength and Comfort, to which the Patient has long been unaccustomed.
I don't know the composition of the Mormon Elder's Damiana Wafers, but other damiana products were not always what they seemed. In 1910, Henry Kaufman of New York was fined $100 for misbranding his Damiana Gin. The product contained strychine and brucine, but the extent of the misbranding was worse than that. Not only was the quantity of damiana negligible, but the product also had the unforgivable quality of not actually being gin.