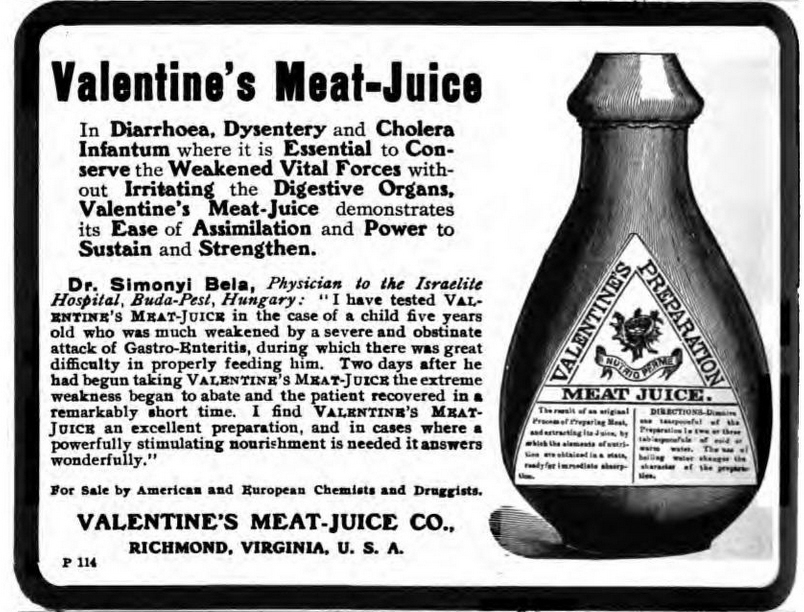 The Quack Doctor is not a hearts and flowers kind of person, so was interested to learn of a dark side to this product's history.
Brought into production in Richmond, VA, in 1871, Valentine's Meat-Juice became popular with orthodox physicians and was advertised in professional publications, including the British Medical Journal. Its inventor, Mann S. Valentine, told of its origins in his A Brief History of the Production of Valentine's Meat Juice, together with Testimonials of the Medical Profession (1874).
A family member (not identified in the booklet but thought to be his wife, Anna Maria Grey Valentine), was in great danger from 'a severe and protracted derangement of the organs of digestion.' She could not take normal food, yet none of the available invalid preparations could sustain her. She needed a safe, digestible and nutritious substance to keep her from starvation.
Through experimentation, Valentine worked out a process of rendering all the goodness of raw meat into a highly condensed form. Unlike other meat extracts, which were manufactured through boiling or roasting, his product resulted from mechanical compression and low heat, retaining all the protein of the raw flesh.
The standard dose was from half a teaspoon to two teaspoons diluted in water and taken by mouth, but some physicians preferred an even less romantic means of administration, and introduced it per rectum. An enema described in The Philadelphia Medical Journal in 1900 comprised one egg, one tablespoon of Valentine's Meat-Juice, 4oz sterilised milk, ½oz. brandy, ½ tsp. salt, and 5oz of sterilised water. Two ounces of this mixture was to be administered every two hours 'as high up in the large bowel as possible.'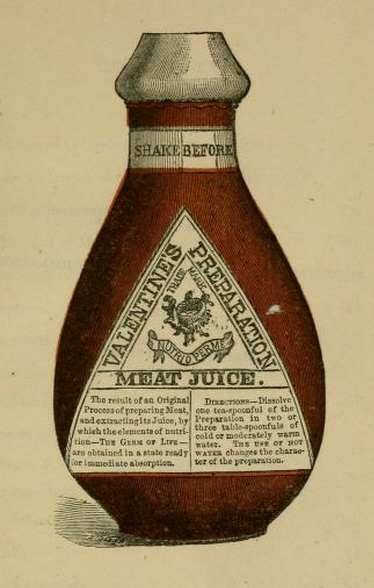 Although it is difficult to tell the size of the bottle from this picture, it was tiny – only about 3″ tall yet said to contain the juice from 4lb of beef. In 1909, the American Medical Association reported that the product did not contain any coagulable protein and was effectively no different from the average 'meat extract' produced with the use of heat.
It was, however, through no fault of the manufacturer that Valentine's Meat-Juice became embroiled in one of the most sensational murder cases of the 19th century. In 1889 a little bottle, laced with a solution of arsenic, formed part of the evidence in the trial of Florence Maybrick, who subsequently spent fifteen years in prison for the murder of her husband. The case is notorious enough that you don't need me to go into it here, so I'll finish by wishing you a happy (or at the very least, murder-free) Valentine's Day.
.
.