This transcript relates to the blog post The Cordial Balm of Rakasiri.
The Morning Chronicle, Saturday 12 December 1818
.
RAKASIRI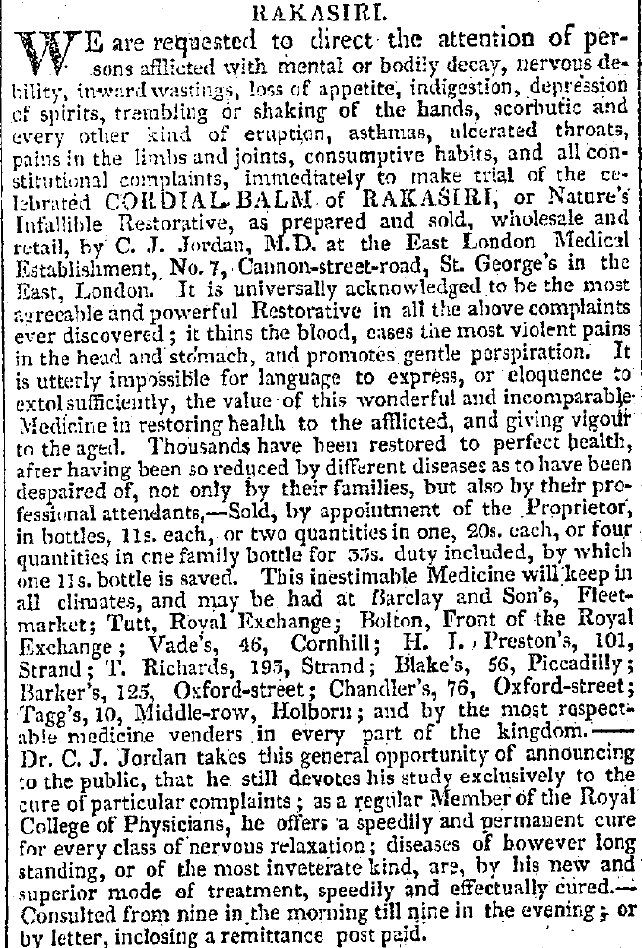 WE are requested to direct the attention of persons afflicted with mental or bodily decay, nervous debility, inward wastings, loss of appetite, indigestion, depression of spirits, trembling or shaking of the hands, scorbutic and every other kind of eruption, asthmas, ulcerated throats, pains in the limbs and joints, consumptive habits, and all constitutional complaints, immediately to make trial of the celebrated CORDIAL BALM of RAKASIRI, or Nature's Infallible Restorative, as prepared and sold, wholesale and retail, by C. J. Jordan, M.D. at the East London Medical Establishment, No. 7, Cannon-street-road, St. George's in the East, London. It is universally acknowledged to be the most agreeable and powerful Restorative in all the above complaints ever discovered; it thins the blood, eases the most violent pains in the head and stomach, and promotes gentle perspiration. It is utterly impossible for language to express, or eloquence to extol sufficiently, the value of this wonderful and incomparable Medicine in restoring health to the afflicted, and giving vigour to the aged. Thousands have been restored to perfect health, after having been so reduced by different diseases as to have been despaired of, not only by their families, but also by their professional attendants,—Sold by appointment of the Proprietor, in bottles, 11s. each, or two quantities in one, 20s. each, or four quantities in one family bottle for 33s. duty included, by which one 11s. bottle is saved. This inestimable Medicine will keep in all climates, and may be had at Barclay and Son's, Fleet-market; Tutt, Royal Exchange; Bolton, Front of the Royal Exchange; Vade's 46, Cornhill; H. J. Preston's, 101, Strand; T. Richards, 193, Strand; Blake's, 56, Piccadilly; Barker's, 125, Oxford-street; Chandler's, 76, Oxford-street; Tagg's, 10, Middle-row, Holborn; and by most respectable medicine venders in every part of the kingdom.—Dr. C. J. Jordan takes this general opportunity of announcing to the public, that he still devotes his study exclusiely to the cure of particular complaints; as a regular Member of the Royal College of Physicians, he offers a speedily and permanent cure for every class of nervous relaxtion; diseases of however long standing, or of the most inveterate kind, are, by his new and superior mode of treatment, speedily and effectually cured.—Consulted from nine in the morning till nine in the evening; or by letter, inclosing a remittance paid.