Welcome to The Quack Doctor, the website about the medical advertising of the past. Take a look around – you'll find pills, potions and peculiar devices from the Georgian, Victorian and Edwardian eras, including more information about the products featured in The Inquisitor each week.

Issue 10 – Arsenic Complexion Wafers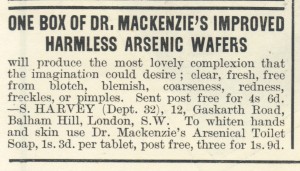 Arsenic Wafers (pills) and soaps became popular in Britain in the 1890s, having already enjoyed a vogue in the US. Arsenic was reputed to make the complexion ethereally pale and young-looking. In reality, commercial products like Dr MacKenzie's Arsenic Wafers contained very little of the poison – which was probably just as well! During the 1890s several British retail chemists were summoned to court for selling arsenic beauty soaps – but not because they were putting the public in danger. Find out the real reason in The Quack Doctor: Historical Remedies For All Your Ills.
——————————————————————-
 Buy the book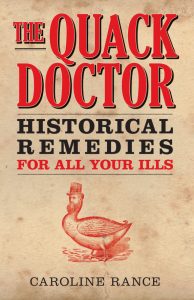 The Quack Doctor: Historical Remedies for all your Ills is out now, featuring the stories behind 19th- and early 20th-century remedies. Contents include: . Antidipso, a powder to cure alcoholism without the patient's knowledge Baron McKinsey, fugitive and purveyor of dodgy literature
Maria Owen, the 'bogus lady doctor'
Dr Henery, offering new life and manly vigour to nervous men
Mer-Syren, the sea-sickness cure that turned out to be very down-to-earth
The Worm Doctor of Shoreditch and his bizarre museum of unusual specimens
Figuroids, the scientific cure for obesity, and Capsuloids, which helped anaemics avoid the need to drink blood.
——————————————————————-
Previously in The Inquisitor…
Issue 9 – Hall's Coca Wine

Hall's Wine was one of the proliferation of late-Victorian 'nervine' drinks that contained cocaine. Consisting of Old High Douro and Priorato port with extracts of the coca plant, the product was introduced in 1888, and this advert is from 1897. But when it came under criticism from doctors in the early 20th century, it wasn't because of the cocaine… Find out more about Hall's Coca Wine.
Issue 8 – Richardson's Electro-Galvanic Belt
In spite of the picture, this is no body-building appliance, and in spite of the list of diseases supposedly cured by this belt, the main target was 'Nervous Weakness and General Debility in Men'. This was a euphemism for impotence, and the Richardson belt was only one of a multitude of 'electric' devices taking advantage of men's embarrassment about consulting a doctor. Most were (thankfully) not really electric but comprised metal plates arranged to look impressively scientific. This advertisement is from 1902 but electric belts had been commercially available for at least half a century by then.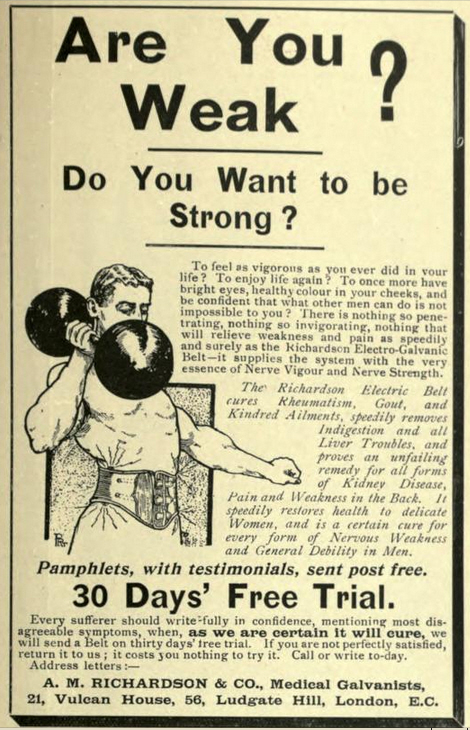 ——————————————————————-
Issue 7 – Madame Fox's Life for the Hair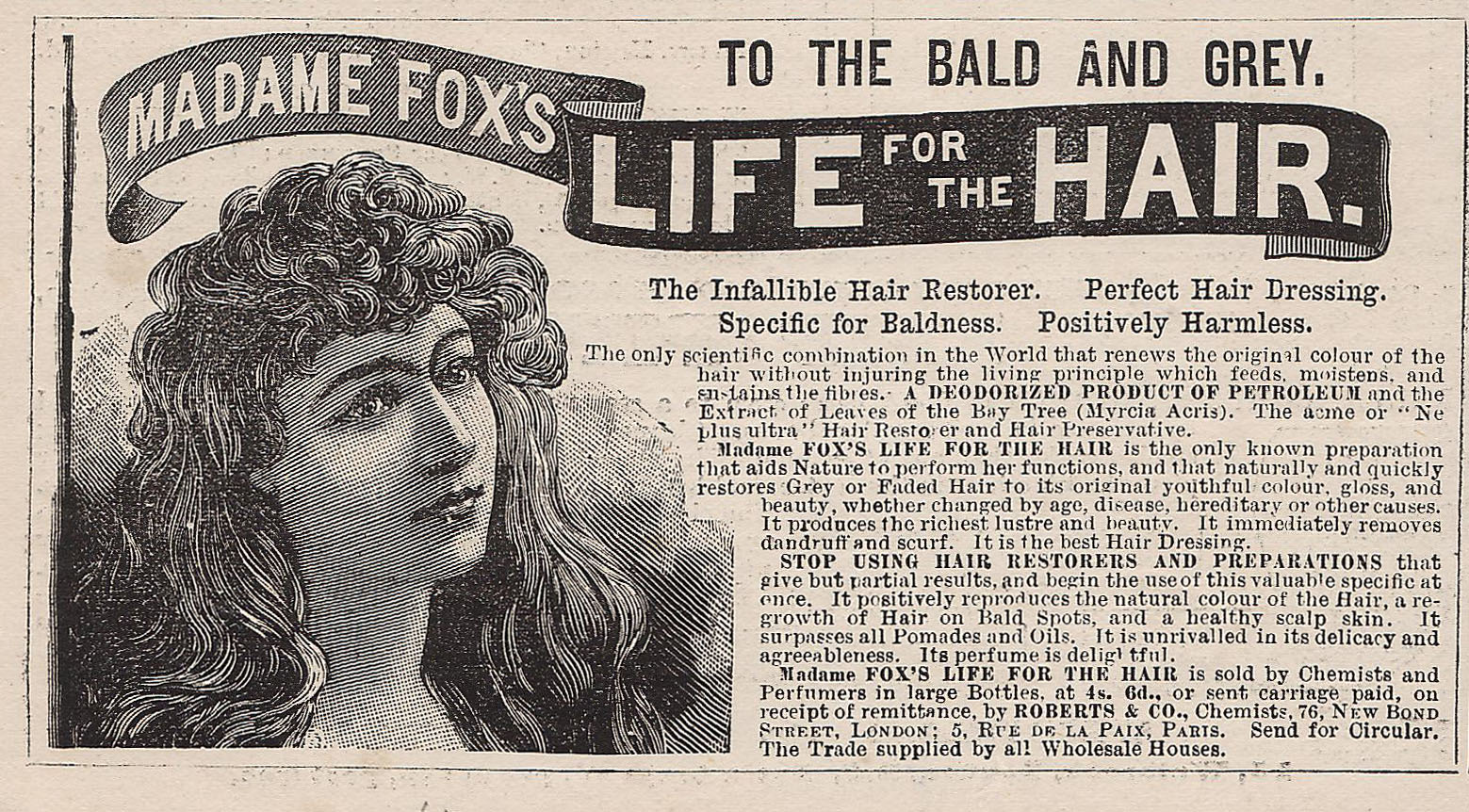 Whether they promised to cover a bald head with a mop of curls, to rejuvenate greying locks or to produce manly whiskers on the smoothest of chins, hair-related products appear in numerous Victorian and Edwardian adverts. There was a huge choice of potions, lotions, devices and even pills for bringing back a youthful barnet. This one dates from the 1880s.
While you're waiting for the next episode of Dracula, check out The Quack Doctor's recent post for The Airship: How to become a Vampire: 4 Victorian Medicines for the Aspiring Undead. 
——————————————————————-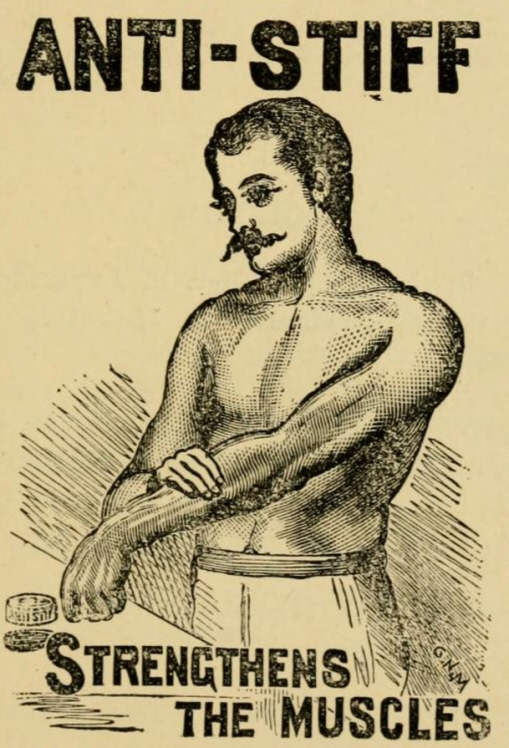 Issue 6 – Anti-Stiff
A boon to cyclists and other athletes, Anti-Stiff was a scented petroleum jelly liniment for perking up those aching muscles. Footballers, boxers, runners and skaters could improve their performance and avoid seizing up after a strenuous workout. Although Victorian footballers did not enjoy the same lifestyle as their 21st-century counterparts, they were nevertheless invited to view Anti-Stiff as one of the finer things in life:
'An article of this kind is a real luxury,' adverts said, 'and when once it is tried by a footballer, he will always keep a tin of Anti-Stiff handy, and carry it about with him as valued as his watch.'
The coach of Notts County in the 1890s reported that his players considered it 'grand stuff'. For more about Anti-Stiff and other Victorian remedies, get The Quack Doctor: Historical Remedies for All Your Ills – out now!
.
——————————————————————-
Issue 5 – Cigares de Joy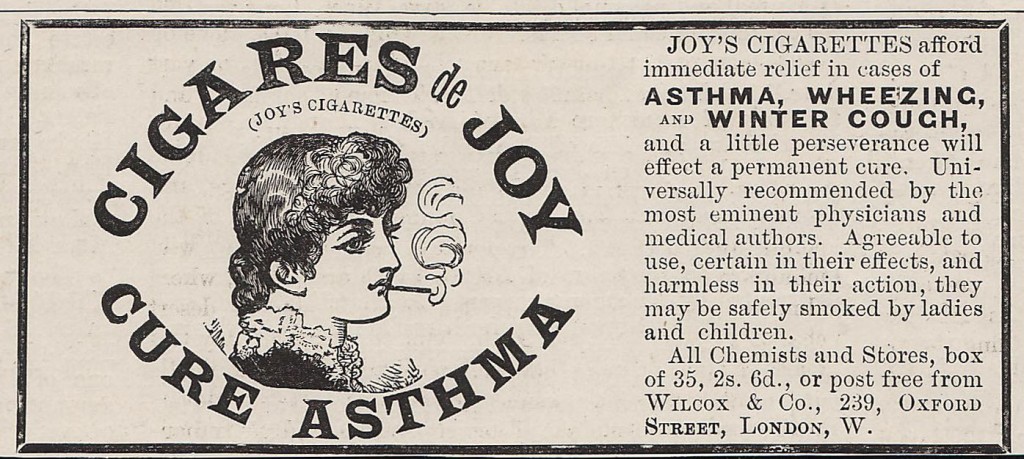 Unlike many of the remedies featured on this site, the herbal Cigares de Joy were popular with the medical profession. According to the Medical Times and Gazette in 1875, these cigarettes were 'very useful little agents for inhaling the smoke of stramonium.' Datura stramonium and its relative Datura tatula were common remedies for asthma, formerly being pipe-smoked before the convenient cigarette form came along. Stramonium is hallucinogenic and an overdose can be fatal, but in a time before drugs such as salbutamol, they did bring some relief to asthmatics struggling to breathe. ——————————————————————-
Issue 4 – Vigor's Horse-Action Saddle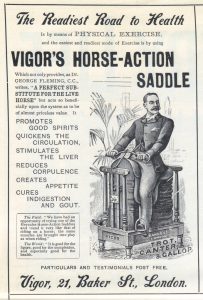 'It is difficult to believe,' said the periodical Le Follet: Journal du Grande Monde in May 1895, 'that any pleasure, or exercise, can in any way equal that of Riding, and to be told that an inanimate automaton, can produce equally beneficial effects on the lungs, and the internal organs,—the circulation, and the digestion,—the nerves and the figure,—sounds like a fairy tale of some "Magic Steed."' Yet such a Magic Steed existed in the form of the Horse-Action Saddle, the original home exercise machine. The main claims for the  Saddle were that it 'rouses torpid livers, quickens the circulation, mitigates hysteria and insomnia, cures gout and rheumatism, removes general debility, creates appetite, cures dyspepsia, reduces obesity'. The machine's concertina-like casing contained four horizontal wooden platforms separated by springs. The rider's own movements dictated the pace – an invalid could simulate a gentle walk while a more robust person could shout 'Tally ho!' and build up a furious gallop over imaginary five-bar gates. A control on the front adjusted the tension so that adventurous riders could experience a 'bone-shaker' feel, should that appeal to them for any reason. Find out more about the Horse-Action Saddle in The Quack Doctor book, out now! ——————————————————————-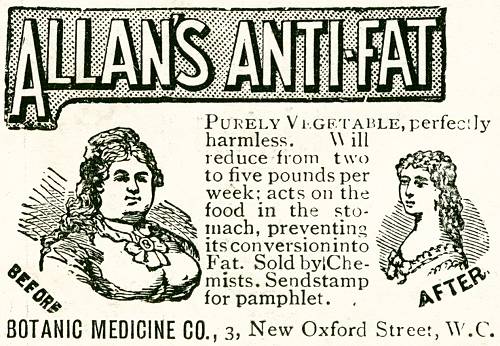 Issue 3 – Allan's Anti-Fat
What magic ingredient could cause pounds to shed at a rate of up to six in a mere week? Seaweed, that's what! Allan's Anti-Fat contained an extract of Fucus vesiculosis, or bladderwrack, an ingredient that attracted the attention of qualified doctors and commercial vendors alike for its reputed weight loss properties. A natural source of iodine, it had the potential to assist those with hypothyroidism, but people taking it willy-nilly to try to shift that stubborn belly fat were probably disappointed. Read more about Allan's Anti-Fat. Did you know weight loss products became big business in the Edwardian period? Find out about one called 'Figuroids' in The Quack Doctor book, out now! ——————————————————————-

Issue 2 – Dr Williams' Pink Pills for Pale People
Could this be the perfect remedy for a young lady whose blood has attracted the attention of a vampire? REMARKABLE AFFAIR IN YORKSHIRE.—The daughter of Mr. J. Bridges,  42,  Foljambe-road, Eastwood View,  Rotherham,  has been the theme of a well-authenticated report in the Yorkshire papers, the facts having been investigated, and the lady and her parents seen, by press representatives. Miss Bridges at seventeen was described by her parents as 'prematurely old.' She could not eat, had no strength, and was nearly copper-coloured, suffering severely from palpitation of the heart. But when seen by the reporter she was in the bloom of health, eating and sleeping well and quite free from heart-trouble, with complexion like the rose… What had occasioned this newsworthy transformation? Why, Dr Williams' Pink Pills for Pale People, of course, and the story in the Derby Mercury of 10 April 1895 was not news at all, but an advertisement. The pills – an iron supplement – were manufactured by George T. Fulford of Brockville, Ontario.  Fulford went into the patent medicine business in 1886 and four years later bought the rights to the Pink Pills recipe from Dr William Jackson for $53.01. The Pills had arrived in Britain by 1893, and the company had premises on Holborn Viaduct, London. Fulford later had the dubious honour of becoming the first Canadian to be killed in a car accident, but his company remained in business until 1989. Here's a Pink Pills advertising booklet from 1895 – well worth a read for its testimonials from satisfied patients! ——————————————————————-
Issue 1 – Clarke's Blood Mixture
'For the blood is the life': the evocative quotation appears in the very first scene of Sky Living/NBC's Dracula as a mysterious figure gives our anti-hero's corpse the sustenance it needs to rise from the grave. But readers of Bram Stoker's 1897 novel would also have recognised it as the slogan of one of the era's best-known patent medicines. Read more about Clarke's Blood Mixture. .
 ——————————————————————-

For more vintage advertisements and history of medicine news, follow The Quack Doctor on:
.
.

.
Pictures from the London preview of Dracula at Two Temple Place, Embankment, on 9 October 2013
(Not Instagrammed – I'm genuinely this bad at photography)